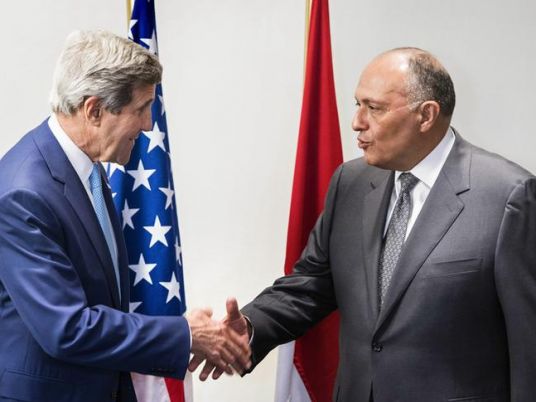 US Secretary of State John Kerry said in a meeting with his Egyptian counterpart Sameh Shoukry on Thursday in Washington that the US backs Egypt in its war against terrorism in the Sinai Peninsula.
"The Secretary reiterated the US commitment to help Egypt fight terrorism, increase economic growth, govern democratically, and bolster regional security," a statement by the US State Department read.
Egypt is engaged in promoting a peaceful solution in Yemen and Syria, said Kerry, adding that Cairo's stances are important because they represent a quarter of the Arab world, according to the American Alhurra news website.
"Today Secretary Kerry met with Egyptian Foreign Minister Shoukry, and they discussed a range of regional and bilateral issues, including Libya and Syria," the statement mentioned.
Kerry stressed Washington and Cairo's strong cooperation in many fields and their joint vision on many issues in the region.
Shoukry arrived in Washington on Thursday to attend the Nuclear Security Summit that begins Thursday and continues for two days. Fifty presidents will attend the summit.
Shoukri said in a press statement ahead of his meeting with Kerry that his visit is an opportunity to continue discussions with the US on bilateral and regional issues of common interest.
"Egypt considers its relations with the US a pillar of its foreign policy due to its strategic nature and common interests between the two countries," Shoukry added.
He added that Egypt is confident that by working with the United States it can confront the challenges facing the region and achieve its development goals and the aspirations of the Egyptian people.