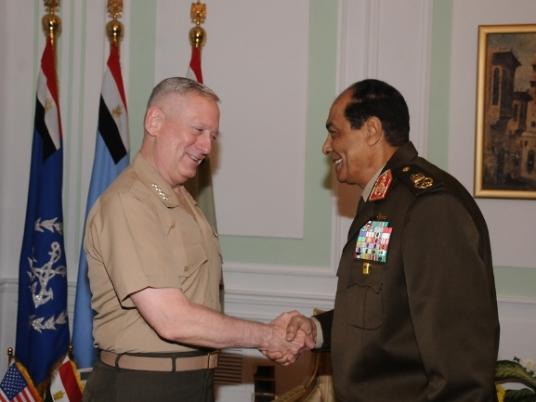 General James Mattis, head of United States Central Command (CENTCOM), arrived in Cairo on Wednesday onboard a military plane with five of his associates, the state-owned news service MENA reported.
Mattis was appointed to his current post on 11 August 2010, and made six visits to Egypt in 2011 alone. On his visits, Mattis has met with Field Marshal Tantawi, head of the ruling Supreme Council of the Armed Forces, and General Sami Anan, the armed forces chief of staff.
MENA reported that Mattis is meeting with Tantawi and Anan to discuss the continued military cooperation between Egypt and the United States and Egypt's role in maintaining stability in the region.
The talks will also cover the democratic transition in Egypt in the light of the upcoming presidential election, ways of boosting relations between Egypt and the United States and the assistance that the United States can provide Egypt with at this stage.
Egypt receives a US$1.5 billion aid package from the US annually, most of it military aid.
"CENTCOM is working with Egypt to modernize the nation's military/security apparatus and facilitate greater participation in contingency operations," US Central Command's website reported. "CENTCOM, through intelligence sharing, also supports Egypt's counter-smuggling operations in the Red Sea and along its southern border. "