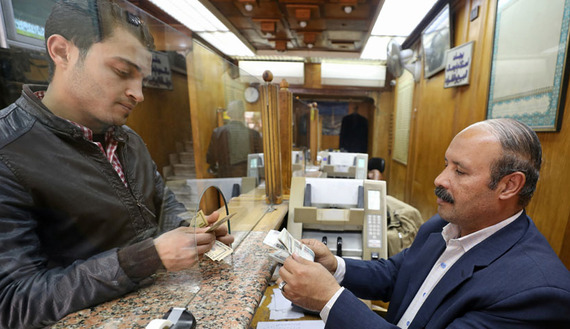 The US dollar exchange rate hiked during Monday morning trading, approaching LE 18, with more than one bank selling it at LE 17.89.
In the National Bank of Egypt (NBE) and Banque Misr, the dollar was being sold at LE 17.79 and bought at LE 17.69, while in the Arab African International Bank and Banque du Caire it was sold at LE 17.82 and bought at LE 17.72.
At ALEXBANK, the rate was stable at LE17.86 for selling, and LE17.76 for buying.
At the Al Ahli Bank of Kuwait the dollar sold at LE 17.88 and bought at LE 17.78.
The Commercial International Bank (CIB) sold the dollar at LE 17.87 and bought it at LE 17.77.
The rate was stable at Al-Baraka Bank and the United Bank, selling the dollar at LE 17.89 and buying for LE 17.79.
Meanwhile, the US dollar exchange rate in the National Bank of Greece increased by two piasters on Monday compared to its price on Sunday, to LE 17.84 for selling, and LE 17.74 for buying.
The rate at the Abu Dhabi Islamic Bank (ADIB) increased by one piaster from Sunday's price, to 17.89 for selling, and 17.79 for buying.
Bankers said that increases and decreases in the currency price results from the flotation of the Egyptian pound, a move conducted by the Central Bank of Egypt (CBE), on November 3 last year.
They added that the currency flotation means leaving the determination of the exchange rate to the official market, determined by mechanisms of supply and demand, without the direct intervention of the CBE.
Edited translation from MENA