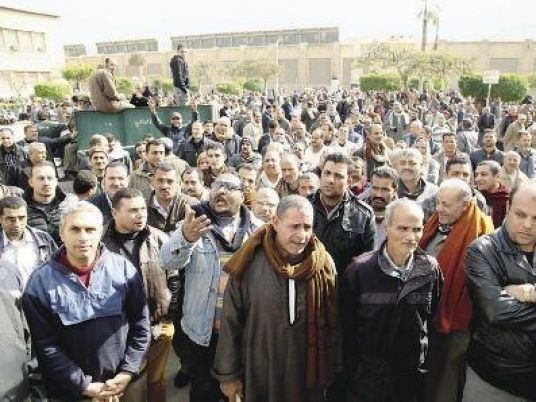 Protests besieged the Cabinet headquarters on Wednesday as dozens of Khanka camps residents in Qaliubiya and dozens of people with special needs staged demonstrations.
Khanka residents protested on Hussein Hegazy Street to demand housing units instead of the tents where they live.
They raised banners that read: "Have mercy on our children from the cold .. Where is my right to housing?" "I do not want violence, I do not want riots," and "The poor need flats."
The chanted: "We just want four walls to protect us, we do not want a villa in Marina."
Dozens of people with special needs protested as well to demand jobs and houses. General coordinator of the People with Special Needs Association Wageeh Abdel Malak said: "We submitted requests for apartments since 2004 but in vain. When we saw that President Abdel Fattah al-Sisi is supporting the people with special needs, we felt there was a change and someone to listen to us."
"We decided to protest maybe an official would communicate with us but no avail," Abdel Malak said.
A number of governorates also witnessed protests for different reasons. In Minya, dozens of workers with no permanent contracts at quarries, local units, and housing, health and education sectors protested at the governor's office to demand permanent contracts. They raised Sisi's images and complained that they have been working for four years without permanent contracts.
Minya Governor Major General Salah Eddin said temporary workers in the governorate reached 14,000 and 793 employees. Measures to grant them permanent contracts will be on two phases, he added.
In Beheira, dozens of bakery workers staged a protests to demand jobs after they were expelled from their work. They were dispersed by the security forces. Thirty-eight bakery workers who were arrested over the protest were released later by the National Security Agnecy. One of the released workers, Mahmoud Gaber, said the officers warned them not to stage more protests, but bakery workers plan a press conference to announce escalatory steps they would take.
In Port Said, dozens of residents at the ramshackle al-Amin and Nasser houses blocked al-Amin Street and set fire to tires to protest the governor's decision to empty the ramshackle buildings without providing alternative houses.
In Sharqiya, dozens of bakery workers organized a protest in front of the governor's office to demand the codification of their financial situation and permanent contracts.