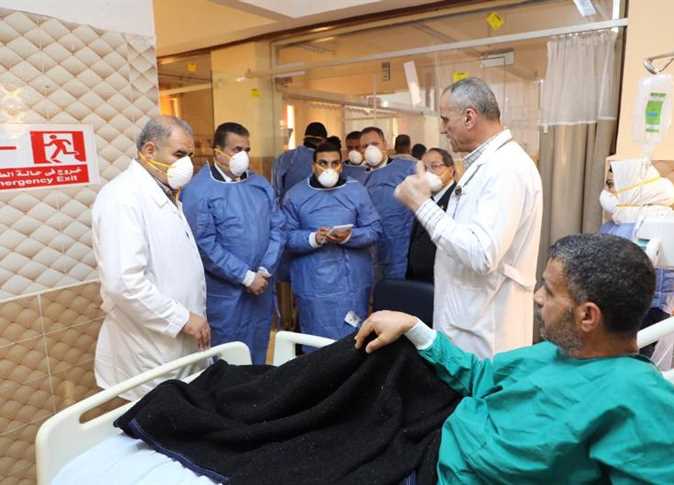 Egypt should see an increase in the recovery rates of coronavirus patients during the upcoming period, with 88 percent of current cases in the country suffering from only mild or moderate symptoms, Health Minister Hala Zayed said.
In a Sunday phone call with Lamis al-Hadidy's TV show "al-Kahera al-Aan" (Cairo Now) on the al-Hadath channel, Zayed said that only 8 percent of coronavirus cases in Egypt are in critical condition in intensive care units, while 4 percent of patients who tested positive for the disease have been placed on ventilators.
She also noted that some patients had succumbed to the virus on the day of their arrival at the hospital because they had waited to seek medical care or contact the country's coronavirus hotline.
Zayed appealed to any citizen experiencing symptoms of coronavirus to immediately go to a fever hospital, epecially pregnant women and the elderly.
She said that refusal to seek out medical care early had raised the death toll in Egypt in recent weeks, noting that deaths reported on Sunday arrived to isolation hospitals too late, with one woman having passed away before an ambulance could reach her home.
Zayed said that she reviewed with the President on Sunday the current situation regarding coronavirus infections in the country and Ministry steps to contain the outbreak and prepare for any scenario.
"Theoretically, according to the World Health Organization and the experiences of countries that preceded us in confirming cases of the virus, the peak weeks are the sixth, seventh and eighth," she said.
"Egypt is now in the seventh week, and we are making all possible efforts to track, investigate, and isolate (confirmed cases and those in contact with them) to ensure that the virus does not spread."
She continued: "Therefore, all (confirmed) cases are from direct contact with infected cases, and this is good."
Egypt announced on Sunday 33 new coronavirus cases and four additional deaths, bringing the total number of cases confirmed so far in the country to 609.
Forty people have died from the virus in Egypt, as well as two senior military officers.
The four deaths announced Sunday were Egyptians from Cairo between 58 and 84 years old.
The total number of fully-recovered cases rose to 132 on Sunday, all of whom have been discharged from isolation hospitals.
The Director of the Department of Communicable Diseases at the WHO Regional Office Evan Houten said on Saturday that although Egypt was making "tremendous" efforts in fighting the novel coronavirus (COVID-19), more needed to be done.
Houten, the team leader of a WHO mission dispatched to Egypt, confirmed earlier that work was underway after several days of intensive field meetings and visits inside and outside Cairo – especially regarding early detection, laboratory testing, isolation, contact tracing, and the referral of patients.
The team of WHO experts concluded its technical support mission on COVID-19 in Egypt on March 25.
The mission's aim was to assess the current situation, review the current response, provide field support if necessary, and identify strengths and weaknesses.
Edited translation from Al-Masry Al-Youm