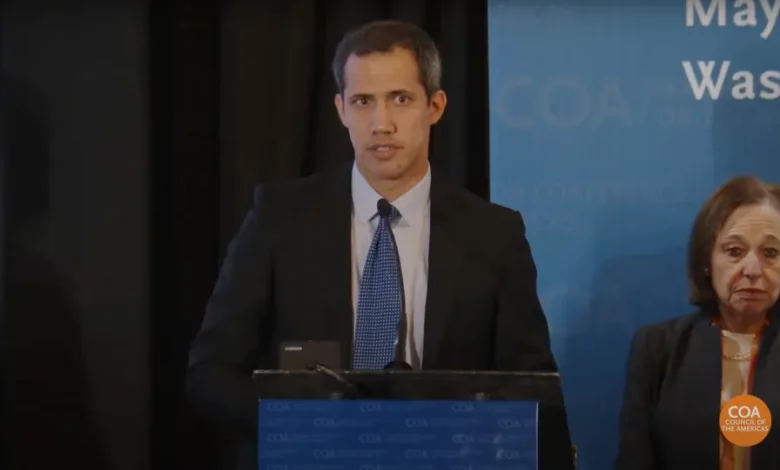 Venezuela's former opposition leader Juan Guaidó is visiting Washington this week, where he hopes to meet with the Biden administration, he told reporters on Tuesday during a surprise appearance at the Washington Conference on the Americas.
Asked if he sought political asylum in the US, he said, "I am currently visiting. My intention, like that of millions of refugees, is to return to Venezuela."
Guaidó served as the interim president of Venezuela's transitional government from 2019 until late 2022 – when he was ousted from his leadership role after struggling to make significant gain against the authoritarian regime of Venezuelan leader Nicolas Maduro.
He caused a stir last week when he showed up in Colombia for a summit organized by Colombian President Gustavo Petro in Bogotá, which aimed to restart talks with the Venezuelan government and the opposition.
Guaidó said at the timet that Colombian Foreign Minister Álvaro Leyva had invited him to attend the summit – which Leyva denied, saying instead that the opposition figure had entered Colombia inappropriately.
Guaidó landed in Miami the following day, after accusing Colombia of forcing him out of the country – a claim Colombian officials refuted.
Guaidó said Tuesday that he will have private meetings with US lawmakers on Wednesday.
"We also hope to meet with the Biden administration – obviously it's a critical moment for the region, especially Venezuela, a moment in which we are pressing to achieve a free election," he said.
Venezuela is due to hold a presidential vote in 2024, though critics have cast doubt on whether elections can be free and fair in the country's repressive political climate.
Guaidó has also been warning about Russia's presence in Latin America. He reiterated his warning on Tuesday: "Two weeks ago, Maduro welcomes (Russian Foreign Minister Sergey) Lavrov with open arms, and you know very well what that represents, and how (Lavrov) intend to destabilize the region."
The US, which had long been a supporter of Guaido, has somewhat softened its stance toward Caracas as the region struggles with rising energy costs and hundreds of thousands of Venezuelan migrants.
The Biden administration loosened some sanctions against the Maduro government in 2022, and last November, it granted Chevron limited authorization to resume pumping oil from Venezuela.