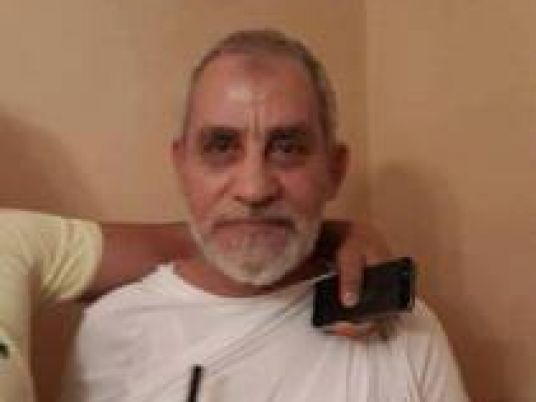 On Thursday, officials from the Veterinary Syndicate announced the formation of a legal committee to defend former Muslim Brotherhood Supreme Guide Mohamed Badie.
Badie faces charges of inciting violence in clashes that broke out in Moqattam, killing in clashes that erupted with the Republican Guards, and the Ettihadeya clashes between supporters of ousted President Mohamed Morsy and security forces.
Badie is a member of the syndicate's general assembly and was previously the syndicate's secretary general.
Samy Taha, the syndicate chief, said the syndicate board will form a legal committee to defend Badie. He added that the syndicate laws oblige the board to defend Badie, a member of the general assembly, as well as to look after the needs of his family.
Taha also warned against any physical or moral harm to Badie during investigations.
He added that the syndicate had taken the decision to defend Badie not because the majority of the board's members belong to the Brotherhood but because he is a member of the syndicate and occupied the position of treasurer of the Medical Professions Syndicates Union for one session and secretary general of the syndicate for two consecutive terms.
According to the syndicate's statement, Taha will call for an emergency board meeting within days to formulate a series of procedures to protect members of the syndicate who get indicted in criminal cases.
Badie faces a litany of charges in addition to inciting violence and killing. Egyptian security forces arrested the former top leader of the Brotherhood on Tuesday. He was staying in a flat in Nasr City in north-east Cairo.
Badie, meanwhile, has denied the charges.
Edited translaiton from Al-Masry Al-Youm