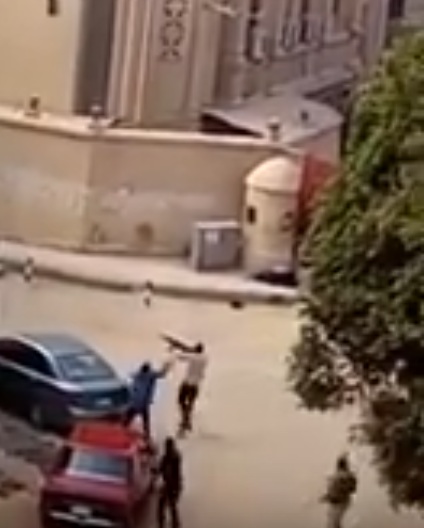 Video footage of the militant attack targeting the Church of Saint Menasin the Cairo's suburban Helwan district has emerged, showing the militant opening fire against a number of civilians and security officials attempting to guard the church.
The militant exchanged fire with and killed a member of the security forces guarding the church.
https://www.youtube.com/watch?v=czybd5qyAhc
A number of the civilians seized the gun of the killed security member and fired back towards the militant, but failed to kill him.
Another video showed a militant lying on the ground, injured after exchanging fire with security forces that arrived to the scene. Health Ministry spokesperson Khaled Megahd said that this militant is now dead.
Nine people were killed and another ten injured in clashes after two armed militants attacked the church.
Security forces had already imposed barriers in the area surrounding the church, as a measure for heightening security procedure during the Christmas and holiday period.
Yet, despite this, the militants targeted the church, opening fire against the security checkpoint surrounding the church.
The second fled the scene, according to reports from state-run media outlets.
As an emergency measure following the attack, police and armed forces increased security and closed all churches inside the Helwan suburb.