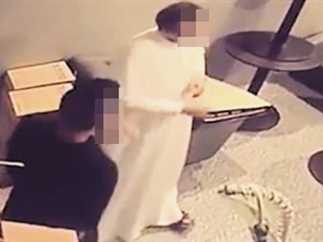 A video clip circulated on social media showing a Kuwaiti citizen slapping an Egyptian young man, according to the circulated video.
The surveillance camera documented the dialogue between the Egyptian and Kuwaiti man, before he slapped the young man on his face.
A security source told the Kuwaiti newspaper, Al-Anbaa, that no official claim has been filed in regards tothe incident.
The source added to the newspaper that the location of the incident is not yet known.
According to the source, the incident is being investigated and if it is proven correct: measures will be taken against the two parties involved in the incident.
Social media users circulated a video, showing a person wearing a "jalabiya", said to be a Kuwaiti citizen repeatedly assaulting and slapping an expatriate, who was said to be Egyptian.