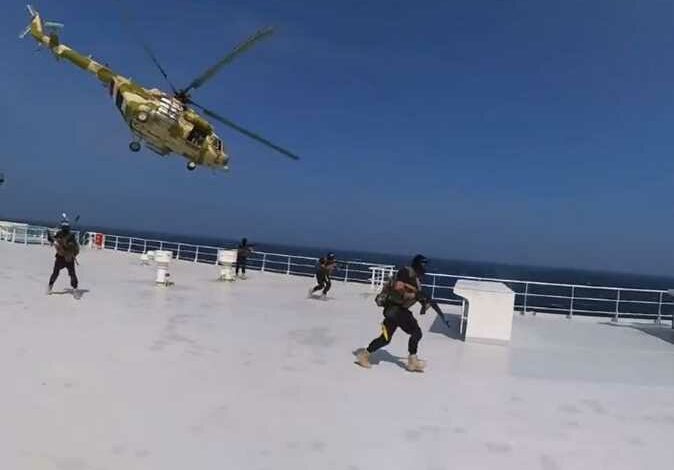 The Ansar Allah "Huthis" group in Yemen published a video clip documenting the seizure of the Israeli GALAXY LEADER ship in the Red Sea on Monday evening, a day after the operation was announced.
The video broadcast by the group shows the Israeli ship with the flags of Palestine and Yemen flying on it.
At the beginning of the operation, a helicopter appeared and dropped several gunmen on board the ship.
They rushed into the ship's captain's room and forced the crew to raise their hands.
In other footage, boats belonging to the Huthi group worked to tow the ship to the western shores of Yemen overlooking the Red Sea.
On Sunday, the Huthis announced that they had seized an "Israeli cargo ship" in the southern Red Sea.
Agence France-Presse added that the Huthis transported the ship to the port of Saleef in Hodeidah, Yemen.
However, the Israeli army asserts that the ship "is not Israeli, and left Turkey on its way to India, and its crew members are civilians of different nationalities, and none of them are Israelis."
مشاهد من العملية العسكرية النوعية للقوات البحرية التي تم خلالها السيطرة على السفينة الإسرائيلية يوم أمس في البحر الأحمر. pic.twitter.com/7dGNtbcMos

— العميد يحيى سريع (@army21ye) November 20, 2023
'Global consequences'
The occupation army said that the hijacking of a cargo ship by the Huthis near Yemen in the southern Red Sea is "a very serious incident with global consequences."
The Hebrew newspaper "Israel Hayom" revealed on Monday that the Huthi seizure of the "GALAXY LEADER" ship, owned by Israeli businessman Rami Ungar, will have wide-ranging economic consequences for Israel.
According to the information received, the ship was carrying thousands of cars and was on its way to India.
The main concern is that the accident will cause an increase in sea transport prices to Israel, due to the high cost of insurance and the cancellation of routes to Israel, which in turn may lead to an increase in the prices of imported products by sea, such as importing cars and livestock.
The CEO of the Israeli Research Institute "GFI" Nir Goldstein explained in an interview with the newspaper "Israel Hayom" that "The damage caused by the Huthis to shipping lanes could have a strategic impact on imports to Israel, especially on the world of food."
"Since the beginning of the fighting, we have seen shipping companies fear of anchoring in Israel, and at the same time the prices of insurance and maritime transport to Israel have risen."
"Now, this trend is expected to increase significantly and harm Israeli food security," he added, referring to the ability to guarantee Israel's food supplies during emergency hours.
The company that owns the ship announced on Monday that "military personnel illegally boarded it using a helicopter," noting that it is now docked in the port of Hodeidah in Yemen.
The company, called "Galaxy Maritime Ltd," which is registered in the Isle of Man, said in a statement: "All communications with the ship have been lost," adding: "As a commercial shipping company, we will not comment further on the political or geopolitical situation."
Edited translation from Al-Masry Al-Youm