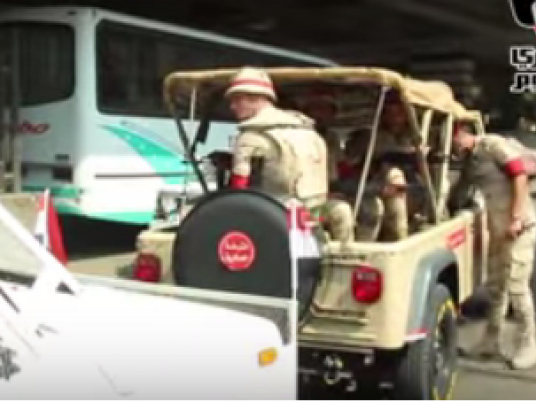 With signs emerging of a humble turnout by voters on the first day of parliamentary elections, army troops are broadcasting nationalist songs to lure voters in some Giza districts.
The first stage of parliamentary elections witnessed a low turnout on Sunday with no more than 1.19 percent of people voting, equaling 16,957 votes cast, according to a press statement from High Elections Commission's Spokesperson Marwan Omar.
More than 27 million are registered for voting during the first stage of elections, which end Monday.
Army trucks were seen touring the vicinity of polling stations in Agouza, Giza, carrying loudspeakers and playing famous songs, such as "Teslam al-Ayadi" (Well Done) and "Boshret Kheir" (A Good Omen). Both are popular songs by Egyptian songstars that celebrated the ouster of former president Mohamed Morsi by incumbent president Abdel Fattah al-Sisi.
Edited translation from Al-Masry Al-Youm