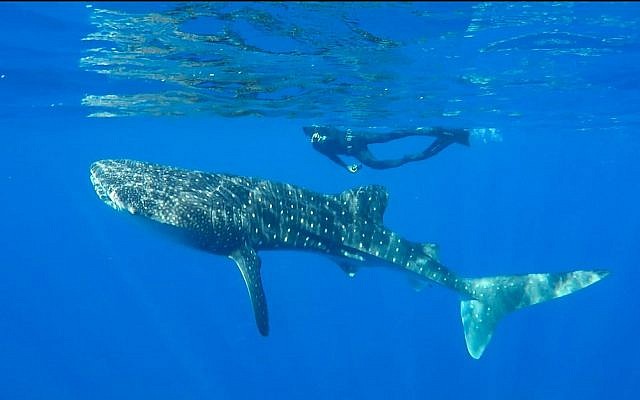 In a rare stunt, a young Saudi man has captured a video of himself riding onto the back of a whale shark in the waters of the Red Sea, Saudi Arabia.
Red Sea Reserve officials back in October 2019 intensified efforts to identify a diver from a Red Sea diving center for harassing a whale shark while recording a video, frightening the rare animal and causing it to flee.
The endangered whale shark is considered a rare sight in the Red Sea, and owes its name to its gargantuan size, with the largest adults reaching up to 13 meters in length – making them among the largest species of fish.
As they primarily feed on plankton, the animals pose no danger to humans.
Hunting whale sharks is banned in Egypt, since the species is endangered. Concerted efforts have been made to preserve the Red Sea ecosystem, which is the habitat of several other rare and endangered species.
Whale sharks have appeared several times in three different areas across the Red Sea, including Port Ghalleb, the al-Fanous area, and between the two islands of Giftun, Red Sea Reserves manager Ahmed Ghallab said in an earlier statement.