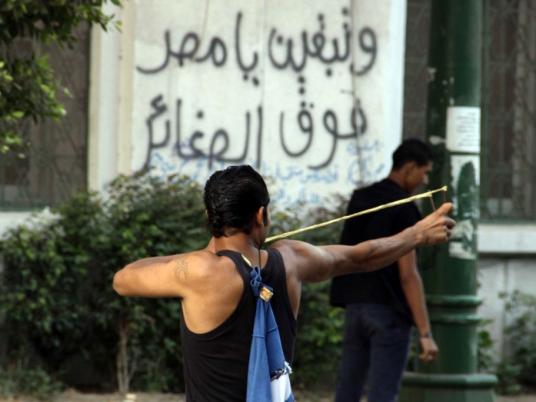 Another wall of concrete blocks is going up in Cairo, this time to separate the US Embassy in Cairo from the Omar Makram Mosque and Tahrir Square, the scene of clashes which began on Wednesday night, and were still continuing on Friday morning.
Protestors demanding the expulsion of the US ambassador over an anti-Islam film made in the US are taking part in running battles with Central Security Forces. Clouds of white smoke periodically fill the air as security forces try to disperse rock-throwing protesters with tear-gas. A limited number of empty shotgun rounds, of the sort used to fire birdshot, were seen by Egypt Independent reporters.
The group of a few hundred protesters was diverse in terms of age, and there was more than one dimension to their motives. For some, this was yet another occasion to settle accounts with the Interior Ministry, who they feel a deep-seated hatred towards due to police violence before, during and after the uprising last year.
A 21-year-old protester who requested anonymity is among those with a score to settle. "We are only here to claim our rights, and they are firing at us, beating us and arresting us. Nothing has changed in the Interior Ministry, it is still their job to beat us up," he said.
However, slogans chanted by those at the clashes were predominantly colored with references to the Prophet, and most claimed to be there to "preserve the dignity of our Prophet," as one protester put it.
Nearly all protesters Egypt Independent spoke to expressed a sense of humiliation over what they perceive to be a highly offensive depiction of the Prophet Mohamed.
"It is forbidden to depict the Prophet, especially when they say the exact opposite of the truth about him. Whereas he was compassionate, generous and forgiving, they depicted him as a bloodthirsty man who is only after sex," says Othman al-Gharably, a 37-year-old member of the National Movement for Egypt, who saw excerpts of the film on social networking website Facebook.
"It is incumbent on all Muslims to defend our religious symbols, be they Islamic, Jewish or Christian. We respect everyone and do not do this to their prophets, so why do they have to insult ours?" he asks, adding that "Obama has to apologize to all Muslims, and Morsy has to take steps and expel the American ambassador."
In the film "Innocence of Muslims," the prophet is depicted as a gay, wine drinking fraud. Riots broke out early Wednesday evening and have been on-going ever since. Earlier, on Tuesday, protesters demonstrated in front of the US Embassy in Cairo and replaced the American flag with one bearing the Islamic declaration of faith.
"We are constantly under attack"
Many felt outraged over what they believe to be a selective censorship policy in the US and Europe. One man claimed that Bill Clinton had once banned a film deemed offensive to Christianity, although Egypt Independent has been able to find no record of such an incident.
A number of protesters Egypt Independent spoke to made references to the Danish cartoons depicting the Prophet Mohamed, which in 2005 sparked protests in many countries across the Islamic world.
"I feel insulted by the US and by Europe, because we are constantly under attack by them. If they made a similar movie about Jews, the makers would have been arrested. But because we are Muslims, they get away with this," says 19-year-old Mostafa Amer. Amer said he saw the movie and felt compelled to take to the streets because, like many, he feels the steps taken by president Morsy are not enough.
He adds that they could not do this at the time of the Danish cartoons, because the country was still under the rule of former President Hosni Mubarak.
"It's very disturbing that the security forces are still being used against us, and to protect them [the embassy]. The Interior Ministry hasn't changed with Morsy, but the time of silence is now over," he says.
Earlier on Thursday, Morsy tasked the Egyptian embassy in the US with taking legal steps against the makers of the film, and condemned "whoever tries to abuse or exercise abuse of any kind against our Prophet or any of the Islamic holy sites." In addition, Morsy pledged to protect the US embassy.
"Where is the prophet's right?"
From protesters' accounts, one could tell that the Prophet, the subject matter of the film, plays a central role in the make-up of their identity, infringement upon which is perceived as a violation of their basic rights. In addition, many placed the film in the context of decades of injustice they feel was inflicted upon them by Western governments, only adding to the deep sense of injustice felt by many.
Khalil Abdel Khaliq, a 46-year-old shop owner, said he was here to fight for "the Prophet's right, thus my right and that of all Muslims." He emphasized his opposition to the violence around him, but felt compelled to be present because, "if we accept being stepped upon like this, we will be stepped upon a thousand times more. Who will be the next one stepping on us?"
Abdel Khaliq had not seen the film, but believes that it amounts to an insult to him and the "entire Muslim world" on the basis of his friends' accounts of it. "I am here out of love for the Prophet, and as a Muslim," he said.
These types of sentiments combined with a long-standing fury directed towards the Interior Ministry has proven to be a sufficient formula for clashes lasting more than a day, with only seconds-long interruptions after each call to prayer from the Omar Makram Mosque, the scene of the clashes.
Adding fuel to the confrontations is the Interior Ministry's perceived failure thus far to recover its authority and esteem, previously contingent on a fear that is apparently no longer present in ever more emboldened protesters. Proof of this is the burning of at least four police vehicles during these clashes, one of them defiantly pushed in the direction of the security forces, only 5 meters away from the police frontline.
As the Maghreb prayer was still resounding from the mosque's speakers, a dozen tear-gas canisters filled the sky, and armored vehicles chased protesters who ran in the direction of Tahrir Square.
The Muslim Brotherhood has called for peaceful protests outside mosques across the country, scheduled for later today.