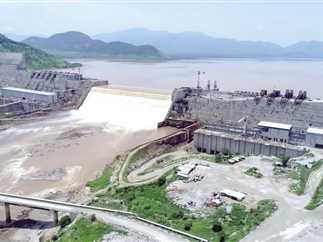 The Egyptian Minister of Irrigation and Water Resources, Mohamed Abdel-Aty, said that any water shortage due to the Grand Ethiopian Renaissance Dam (GERD) will affect workers in the agricultural sector, which will cause social and security instability in the region and increase illegal immigration.
Egypt, which relies considerably on freshwater from the Nile, has voiced fears that the GERD would negatively impact the country's water supply, and has insisted that measures be put in place to protect downstream countries in case of drought during the dam's filling process.
This came during Abdel-Aty's meeting with Matthew Parks, a water expert in the US government, Nicole Champagne, the US deputy ambassador in Cairo, and representatives of the US embassy.
During the meeting, the Minister of Irrigation reviewed the current position of GERD negotiations, and Egypt's great flexibility during the various negotiation stages due to its desire to reach a fair and binding agreement regarding filling and operating the dam.
He noted that Egypt made several attempts to build confidence during the negotiation stages, but this did not correspond in good faith from the Ethiopian side.
Abdel-Aty pointed out that the Ethiopian side deliberately issued false statements and managed the dam unilaterally, which caused great damage to the downstream countries, which cost huge sums estimated at billions of dollars to mitigate the negative effects resulting from these unilateral measures that caused confusion in the river system.
He explained that Sudan was damaged as a result of the unilateral filling last year, which caused Sudan to suffer from severe drought and floods.
The Minister reviewed the water situation in Egypt and the challenges facing the water sector; amongst the review was the limited water resources, population increase, and the negative effects of climate change.
Egypt's water supply needs an amount of an average114 billion cubic meters annually, however faces a current deficit of about 54 billion cubic meters annually.
Egypt and Sudan say they want a legally binding agreement, while Ethiopia says any pact should be advisory. Egypt and Sudan consider the dam a threat to their vital water supplies, while Ethiopia considers it essential for development and doubling its electricity production.
The downstream nations fear possible blows to water facilities, agricultural land, and overall availability of Nile water. Negotiations over the dam between Egypt, Ethiopia, and Sudan have stalled for years, with the three parties ultimately failing to reach any concrete agreements.
The disputed dam is the largest hydroelectric project in Africa, with a cost of more than four billion dollars. The construction of the dam, which began in 2011. It is considered to be one of Egypt's most serious water issue.