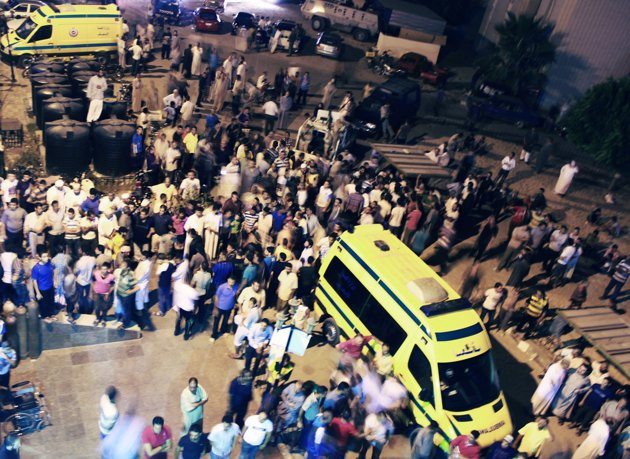 The Turkish News agency Anatolia on Tuesday quoted Mourad Mowafy, head of Egyptian intelligence, as saying Egypt had received intelligence about the attack on the Egypt-Israel border before it took place.
"But this does not diminish the ability of our security agencies and their vigilance in Sinai," he said, adding that preliminary information suggests that the alleged perpetrators belong to an extremist group in Sinai and Gaza.
The state-run MENA news agency quoted medical and security sources on Tuesday as saying that the bodies and body parts of the attackers were transferred from the Arish General Hospital morgue to the Department of Forensic Medicine in Cairo.
MENA quoted unnamed sources as saying autopsies would be conducted to identify the bodies.
The Israeli authorities on Monday handed over four bodies to their Egyptian counterparts through the Awja crossing, most of which were completely burned.
The official Al-Ahram newspaper quoted Assistant Chief Coroner Ashraf al-Refai as saying forensics would on Wednesday check five bags of scattered body parts and conduct DNA tests to identify them. "We did not receive intact bodies," Refai said.
The armed forces had said in a statement on Monday that 35 gunmen attacked the military point at 7:00 pm on Sunday, seized an armored vehicle and used it to cross the Egypt-Israel border through the Karm Abu Salem crossing in southern Gaza, where Israeli forces confronted them and destroyed the vehicle.
The statement added that elements from the Gaza Strip at the same time bombarded the Karm Abu Salem crossing with mortars.