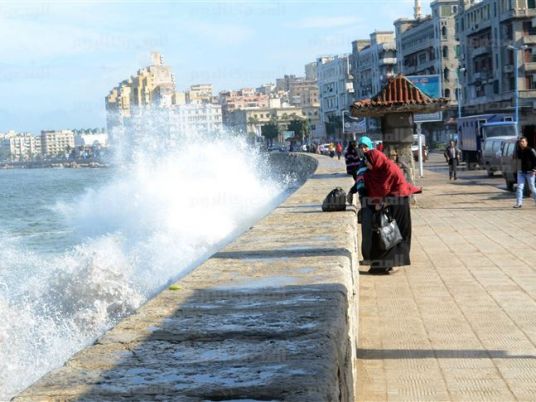 Egypt is expected to experience some changeable and potentially dangerous weather this week, according to the Egyptian Meteorological Authority (EMA), which issued a weather warning to officials on Friday.
Saturday is set to start with hot weather along the northern coasts, with very hot weather elsewhere. Temperatures are expected as follows: Cairo, 36; Alexandria, 27; Qena, 35; Luxor, 36; Aswan, 39.
Rain clouds will appear in the south, as well as central and south Sinai on Saturday. Strong winds will whip up sand and dust in all parts of the country, reducing visibility and disturbing navigation.
Starting on Sunday evening, rain is expected on northern coasts, the Delta region and Cairo. The rain will then spread to other parts of the country. Temperatures will drop by 4-6 degrees Celsius, with warm weather in the Delta, Cairo and north of Upper Egypt and hot in the south.
Sailors are advised that stormy conditions starting Sunday will make the Mediterranean and Red Sea usuitable for maritime activities.
The lowest temperatures will be witnessed on Monday. Temperatures will range between 19-20 degrees Celsius on northern coasts and in North Sinai, 21-23 degrees in the Delta and Cairo, 22-23 degrees in the north of Upper Egypt, 26-28 degrees in the south and 22-24 degrees in South Sinai.
The EMA has called on officials to take all precautionary measures to limit the impact of bad weather conditions, especially in Upper Egypt and Sinai.
Edited translation from Al-Masry Al-Youm