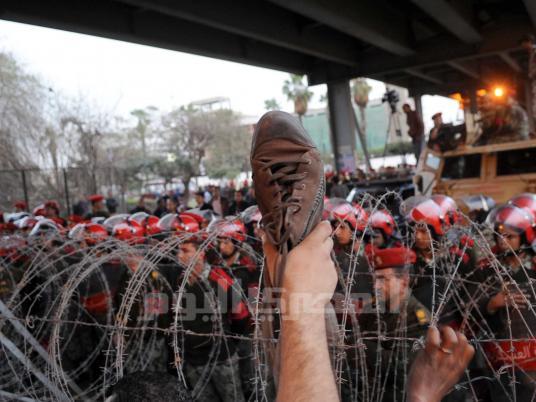 Wednesday's papers focus on presidential candidates announcing their bids ahead of official nominations next month, Field Marshal Hussein Tantawi's meeting with parliamentary leaders, and ongoing student protests against the Supreme Council of the Armed Forces.
"Presidential candidates commence their campaigns with calls for SCAF to hand over power" to civilian authorities, reads a front-page headline in independent Al-Shorouk newspaper. The paper reports that ousted Prime Minister Ahmed Shafiq met with Tantawi prior to announcing his candidacy, while Amr Moussa, who served as foreign affairs minister and headed the Arab League during former President Hosni Mubarak's tenure, is leading the field in terms of collecting signatures and coordinating his campaign with lawmakers. Salafi candidate Hazem Abu Ismail claims that leading Islamist groups are not supporting his presidential bid, the paper also reports.
Independent Al-Tahrir newspaper writes that current Arab League Secretary General Nabil al-Araby will throw his hat in the ring next month and meets the Muslim Brotherhood's criteria for a presidential candidate. However, the paper quotes the Brotherhood's guidance bureau as saying, "We respect Araby but have not engaged in dialogue with him."
Al-Tahrir also reports on a meeting between a parliamentary delegation led by People's Assembly Speaker Saad al-Katatny and SCAF officials including Tantawi at the council headquarters. The group reportedly discussed the transfer of power from military to civilian authorities and the Parliament's strained relationship with interim Prime Minister Kamal al-Ganzouri, who was also Mubarak's prime minister in the late 1990s.
According to the Muslim Brotherhood's mouthpiece, the Freedom and Justice newspaper, SCAF briefed the parliamentary delegation about declining economic and security conditions during the meeting. The delegation reportedly criticized the Ganzouri cabinet and requested information about the 1 February Port Said football stadium violence, which led to the deaths of 74 people.
The liberal Al-Wafd party newspaper runs the headline, "Field marshal discusses secure handover of power with Katatny." The Brotherhood and its Freedom and Justice Party have called for the military to hand over power without any potential prosecution of Tantawi or his generals for protester deaths and injuries since the outbreak of the January 25 revolution, the paper writes. Indicators suggest the Brotherhood would allow Tantawi in his minister of defense post when a new executive branch is formed, the paper reports, although cabinet appointments will be up to the new president, not Parliament.
State-owned Al-Akhbar publishes its take of the meeting under a headline that has Tantawi saying, "Armed forces will never allow foreign intervention in Egyptian affairs." Apparently US$1.3 billion in annual US military aid does not constitute foreign intervention.
Al-Akhbar also reports on a student march to the Ministry of Defense, waiting until page five to explain that hundreds of "Ain Shams University Students [were] prevented from approaching the ministry" by thousands of soldiers and military police blocking the surrounding roads. The paper does not mention that such road blocks around the Defense and Interior ministries have led to massive traffic jams across Cairo.
Al-Akhbar runs a caricature on its second page depicting two children handing a flower to an army soldier with a rifle on his shoulder. "Happy Valentine's," reads the caption.
"Students from four universities demand SCAF's immediate departure," reads an Al-Shorouk headline. The article says thousands of students from four universities — along with some students from Al-Azhar University — have launched open-ended protests on their campuses, while hundreds of others have been marching to the Ministry of Defense to demand an immediate handover of power to civilian authorities. Wednesday marks the fourth day of the protests, which include sit-ins and students boycotting classes.
Egypt's papers:
Al-Ahram: Daily, state-run, largest distribution in Egypt
Al-Akhbar: Daily, state-run, second to Al-Ahram in institutional size
Al-Gomhurriya: Daily, state-run
Rose al-Youssef: Daily, state-run
Al-Dostour: Daily, privately owned
Al-Shorouk: Daily, privately owned
Al-Wafd: Daily, published by the liberal Wafd Party
Youm7: Daily, privately owned
Al-Tahrir: Daily, privately owned
Freedom and Justice: Daily, published by the Muslim Brotherhood's Freedom and Justice Party
Sawt al-Umma: Weekly, privately owned
Al-Arabi: Weekly, published by the Nasserist Party
Al-Nour: Official paper of the Salafi Nour Party