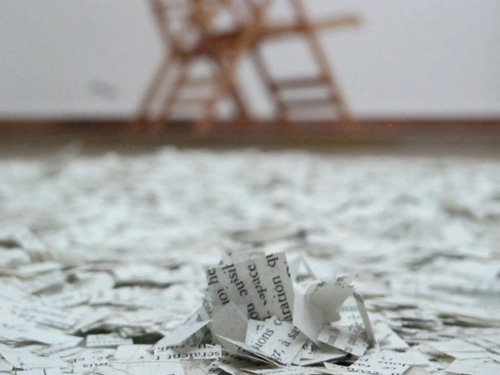 "What does a drawing want?" is Beirut in Cairo's second exhibition, and its first group show. Presented as "a draft (essay) exhibition unfolding over the course of a month," it's both meaty and coy.
An engaging talk by artist Carlos Amorales served as a quiet opening on 12 December. There was no signage at that time, or any press release on Beirut's website. Information appeared on the site later, and a list of works was written loosely in pencil on a wall. Beirut's founder and co-director Sarah Rifky said it was "not the right time to open the show" in her introduction to Amorales' talk, which was followed by a screening of his film "Supprimer, modifier et preserver" (Delete, modify and preserve). The event took place against the backdrop of violent clashes over President Mohamed Morsy's power grab and the constitutional referendum.
It is a good time to have the show on though. The exhibition is topical and thought provoking, yet mystifying and in flux — like reality.
When you enter the ground floor of Beirut's villa in Agouza, you hear the stately romantic string music of Gabriel Lester's "Incidentals 2012 (Music for Thought)" coming from two small speakers on posts in an almost empty room.
The music is punctuated by regular echoing bangs, which you find are coming from Jimmie Durham's austere video, "Stoning the Refrigerator," playing on a small television set placed in a fireplace in the next room. In the video, progressively large stones are thrown at an old-fashioned, curvaceous white refrigerator. The stones come from behind or next to the video camera, so you can't see the thrower.
Gintaras Didžiapetris' piece, "Bird Migration," seems to consist of some small, semi-circular stickers making two identical abstract forms on the wall — one down near the floor in the room with the music, and the other close to the ceiling above Durham's video.
Nearby, a small pile of cut-up bits of paper spills off a circular mirror, maybe a meter in diameter, on the floor. The little rectangles of paper have French words typed on them. It's a piece by Anetta Mona Chişa and Lucia Tkáčová called "Politiques de l'amitié" (Politics of Friendship).
In addition to being screened on 12 December, Amorales' almost 29-minute film is the fourth work in the show. In the piece, which is set in France, the artist improvises a machine for printing in graphite and uses it to print the entire French Civil Code. A man — who is not Amorales — then visits various professionals who have knowledge of the code, and they each erase or modify by hand one of its articles. The actor instructs ("Look at me") and asks questions ("Is that article important? Is it important?"), while the professionals perversely take out crucial elements of the code or try to correct its mistakes. We don't know who they are, or exactly what they were asked to do.
The film is interspersed with shots of the same actor reading out ridiculously opaque or irrelevant passages from the code in busy public spaces. In the final scene, some workers bring an old burned-out motorbike into a gallery and cursorily reconstruct it, lying on its side, before leaving.
Beirut also commissioned a monochrome "intervention" on a double spread in the 13 December printed edition of this newspaper — available at Beirut — using images related to Amorales' film.
There was a different group of smartly dressed professionals in Beirut on 19 December: a quartet of Egytian string players performed a new arrangement by composer Bahaa El-Ansary of Lester's "Music for Riots and Fights" (2005), originally an orchestral piece. It was surprisingly chirpy and romantic, considering the title.
It is up to the viewer to draw links between the works, which are diverse in look, content and impact. "Supprimer, modifier et preserver" deconstructs the social contract in an effective but light-hearted way. The idea of "Politiques de l'amitié" is exuberant, but the look of it a bit flat. While Rifky threw handfuls of French words in the air like confetti, most other people took care not to tread on the rigid mirror frame. The modest, undemanding "Bird Migration" is the most tight-lipped piece. It also superficially looks like it could be by Mexican artist Gabriel Orozco.
Ideally, perhaps, viewers will follow up on the references. There is illuminating background information that you will not discover by just looking at the show. "Politiques de l'amitié" is the name of a book by philosopher Jacques Derrida. It may or may not be important to know when watching the fridge being battered that artist Jimmie Durham has Native American heritage. The two pieces of music by Lester were derived from keyword searches (thought, riots) in silent film score archives.
The website blurb says that one concept behind the show is "the drawing as a 'wild sign' with the potential to explode meaning into nonsense, madness, anarchy and even nature (Tom Mitchell)." This is in reference to W. J. T. Mitchell's book, "What do Pictures Want?", a reading of which may also shed further light on the exhibition.
Confusing the issue a bit is the information that does exist. The curatorial statement is pretty oblique. The date written on the wall for the show's end — 15 October 2013 — is different than that indicated on the website — 20 January 2012. The list on the wall says all the works are from 2012, except for "Stoning the Refrigerator," which is dated 1994; but the video itself says it was made in 1996, while Amorales' film was apparently made in 2011.
But this casualness is also a strength of the show. Rifky says it was curated by the Beirut team "intuitively and associatively," and involved asking: "How to remain relevant, now?"
More parts of the puzzle are to come in. On 9 January there will be a screening of Lithuanian artist Deimantas Narkevičius' 10-minute film, "The Role of A Lifetime" (2003), and Hito Steyerl's 21-minute "Journal No.1 — An Artist's Impression" (2007), which is set in the former Yugoslavia and tries to piece together a lost film from the 1940s. On 14 January, there will be a talk by Christian Rattemeyer, a writer and associate curator of drawing at New York's Museum of Modern Art, on the political dimensions of drawing. There will also be a text by Isabel Seligman, but it is not clear when or where that will pop up — or if it already has.
The show is simultaneously light and heavy, and the flipside of its mysterious nature is that it is completely un-didactic. You're free to think what you want of it. The best moments so far have been when the show was filled up with people for the first two, very different, events.
"What does a drawing want?" is on until 15 January at Beirut,11 Mahmoud Sedky St. Agouza, Giza.
Images courtesy of Beirut.
This piece was originally published in Egypt Independent's weekly print edition.