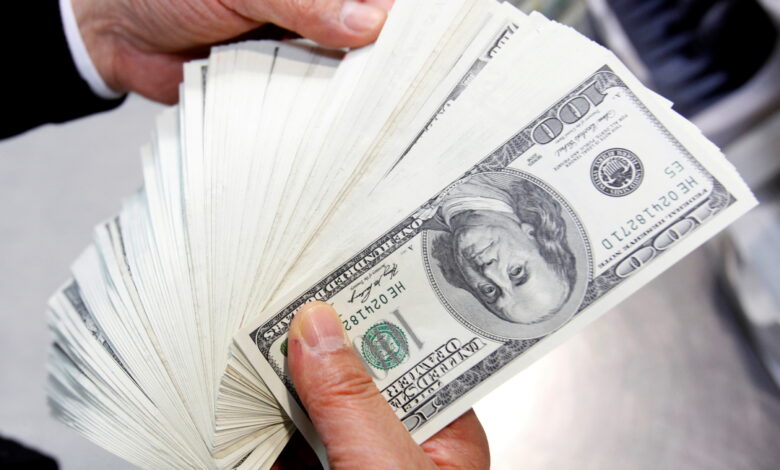 The Standard Chartered Bank said that nearly a third of Egypt's debt is denominated in foreign currencies, and any additional movement in the US dollar exchange rate against the Egyptian pound will raise the debt-to-GDP ratio.
In its recent report the bank explained that the rise in the value of the US dollar to about LE 38 (as traded in the black market) would push the debt-to-GDP to more than 100 percent by the end of June 2023, the privately-owned Masrawy website reported.
Egypt's foreign debt increased by 5.2 percent during the last quarter of last year to reach US$162.9 billion at the end of December, compared to $154.9 billion in September, according to data issued by the Ministry of Planning and Economic Development.
The debt burden reached 91.6 percent of GDP in June 2022 based on estimates of the International Monetary Fund, according to the bank's report.
And according to the state's draft budget for the new fiscal year, the indebtedness of budgetary agencies is expected to rise by the end of June 2023 to about 96 percent of GDP.
Egypt's return to a flexible exchange rate after it was suspended during 2020 and 2021 led to a significant decline in the pound value since March of last year.
As a result, the exchange rate of the US dollar against the pound rose by about 96 percent, from LE 15.76 per dollar on March 20, 2022 to LE 30.94 in bank transactions, as of Sunday.
Standard Chartered said that the combination of high inflation, currency weakness, and global interest rate hikes had a severe impact on Egypt, as the interest cost-to-revenue ratio is likely to exceed 50 percent in the current and next fiscal years.
The report added that despite the fiscal discipline that keeps the deficit under control, challenges are increasing in front of Egypt's debt sustainability.
Exchange rate remains stable
The price of the dollar against the Egyptian pound, according to the Central Bank, is approximately LE30.88, a rate that has been stable for some time.
The government devalued the pound by about 50 percent during the last year.

Using foreign currencies in purchase and sale between citizens exposes them to legal punishment.
The law does not protect persons who carry out this act if they defrauded the other party during the process, according to a legal expert and a member of the Bar Association Issa Abu Issa.

Issa told Al-Masry Al-Youm that the law is clear with regard to this issue, as it prohibits dollarization in all its forms due to its negative effects on the national economy.