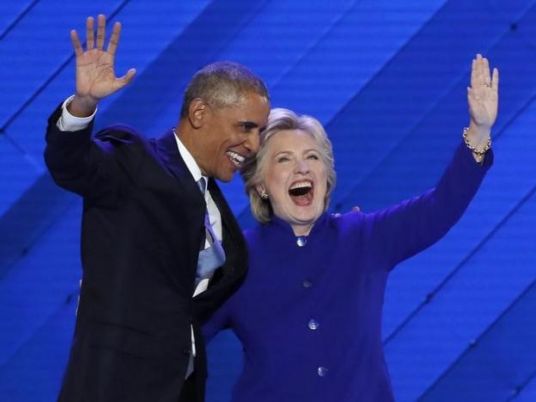 As the United States counts down to the elections that will decide its 45th president, succeeding Barack Obama, a number of indicators favor a win by Democratic candidate Hillary Clinton, rather than Republican rival Donald Trump.
By the end of the three presidential debates, polls suggested the wife of former President Bill Clinton was likely to win the race to the White House.
A poll conducted by CNN and ORC Institute showed that Clinton leads Trump by five points as the presidential contest heads into its final two weeks. According to Reuters/Ipsos figures released on Saturday, Clinton is still maintaining a commanding lead.
The prospect of a Clinton presidency raises questions about the future of Egyptian-American relations, especially with the Middle East region witnessing tensions and conflicts in which regional and international powers interfere.
With Clinton in the White house, will there be a significant improvement in US-Egyptian relations or just more tension? There are a great many factors to consider, including human rights, the role of the Muslim Brotherhood in the political process, and the fate of US military aid to Cairo.
We seek to weigh up the factors and consider the implications of a Clinton victory this November.
A rocky history
Relations between Cairo and Washington have been rocky since the January 25 revolution, reflecting the changes in Egypt's political fortunes, and whoever becomes the next US president will have to pick up the pieces.
The past few years have seen momentous changes: President Hosni Mubarak was removed from office, then the Muslim Brotherhood came to power and were later toppled, making way for the rise of President Abdel Fattah al-Sisi.
In the beginning, Washington declared its support for former president Hosni Mubarak. After his overthrow, Clinton, serving as US Secretary of State, said that her country had sent several messages to Mubarak demading reforms that would lead Egypt into a new future, but these messages were not answered. Clinton then said that her country wanted an organized transfer of power in Egypt.
In her book "Hard Choices" Clinton said she was worried of the Muslim Brotherhood gaining power. However, she also said that Washington was ready to work with those leaders chosen by the Egyptian people.
When Muslim Brotherhood rule ended in the summer of 2013, US-Egypt relations suffered. The US Congress suspended military aid to Egypt, estimated at $1.3 billion, and Washington delayed the delivery of F-16 fighter jets and Apache helicopters to Egypt. The moves were billed as an attempt to pressure Cairo into a democratic transition.
Only recently has US policy towards Egypt started to change, with relations slowing thawing. Washington released the suspended aid and allowed the transfer of F-16 fighters to Egypt. During an interview with The Associated Press, Sisi stressed that relations between the two sides were subject to "continuous improvement".
From cold to luke-warm
Hillary Clinton has said that Egypt is a pivotal state in the balance of power in the Middle East. During a meeting with Sisi on the sidelines UN General Assembly meeting in New York last September, she stressed the importance for Egypt of respecting the rule of law.
She also emphasized cooperation with Israel in counter-terrorism operations, and commitment to defeating the Islamic State terrorist group.
Clinton and Sisi also discussed bilateral relations and the importance of economic development and investment in Egypt.
Professor of political science at Cairo University Mohamed Kamal says the Obama era represented "the worst phase in the bilateral relations", a stage that saw the arrival in power of the Muslim Brotherhood in Egypt, followed by their removal from power and the first-ever freezing of US military aid to Egypt, along with various conditions placed on future aid.
Kamal explained that president Sisi has not made any state visits to Washington, despite traveling to the United States three times. This fact suggests that Egypt-US relations have been "cold", said Kamal.
Kamal said that a Clinton victory in November will mean only a slight improvement in Egypt-US relations, if any.
"I do not expect to see significant development in relations under Hillary. One of the reasons is that she is interested in the Asia region more than the Middle East, including Egypt. Heading towards Asia has been a strategically focused approach by the Democratic candidate since she became secretary of state under Obama.
"She will continue to talk about democracy and human rights and civil society, and these traditional issues cause strained relations between the two countries," he said.
The push for 'inclusivity'
Kamal said that he expects Clinton to push for an "inclusive" political system, which means integrating the Muslim Brotherhood into Egyptian politics once more, a notion that will not sit well with the current government.
He added that a Clinton administration would depend on research centers and human rights organizations that demand the integration of the Muslim Brotherhood. While this does not mean that the Muslim Brotherhood will ascend to power again, it would mean allowing them to take part in the political process on some level.
However, Kamal said, "I do not think that Clinton is putting any pressure on Egypt to achieve this."
History shows that the United States has often sought to use military and economic aid as a means of pressuring Egypt on political issues. However, Kamal said that the failure of this policy in recent times suggests that Clinton is unlikely to try such a method again.
On the issue of human rights, Kamal said that such issues have been the cause of tensions with the US since the days of Mubarak and they will continue to be. Organizations linked to the Democratic Party have long played a role in seeking to raise the profile of human right issues in Egypt, he said.
'Not optimistic'
Saeed al-Lawendi, an expert in international relations at Al-Ahram Center for Political and Strategic Studies, seemed less confident that a Clinton victory would be a positive for Egypt.
"I'm not optimistic about the victory of Hillary Clinton," he said.
"US policy toward Egypt will not change, because Clinton is an extension of Obama. When she was secretary of state, she did nothing for the Middle East in general, and Egypt in particular. The same applies to Obama, who did nothing for Islam and Muslims throughout his two terms," said Lawendi.
He said a Trump victory would be better for Egypt, citing the Republican candidate's comments during a meeting with Sisi in New York, in which he said Egypt is Washington's partner is the fight against terrorism.
"I think that there may be a change in US foreign policy toward Egypt if Trump wins the presidency.
"Clinton favors Israel and would do anything to build Israel, and not build the Middle East, and she will try to intervene in Egyptian affairs through the re-integration of the Muslim Brotherhood into the political process."