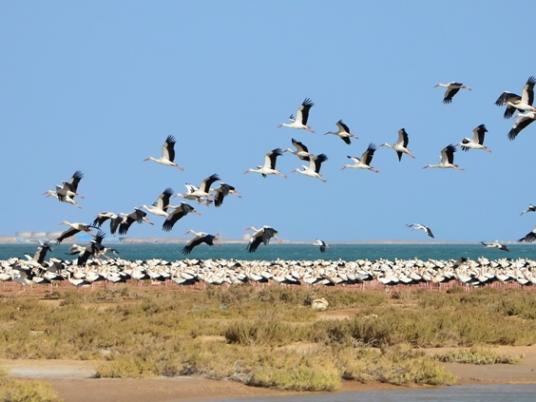 Egypt is a windy country, with wind speeds that can reach over 10 meters per second in certain strategic areas: along the Red Sea coast, in Suez and at the southern tip of Sinai in Ras Mohamed.
No wonder then that foreign investors, manufacturers and the National Renewable Energy Agency (NREA) are keen to exploit the country's wind potential.
But in some cases, wind farms, turbines and the associated power lines which carry the generated energy to the end users can pose threats to migratory soaring birds.
In order to discuss and agree on mitigating measures to reduce these threats, the regional workshop "Mainstreaming Migratory Soaring Birds Considerations in the Energy Sector" took place on 16-17 December in Cairo.
Egypt's strategic location as a land bridge between Africa and Eurasia makes it a major host along the Rift Valley-Red Sea flyway, which is the seasonal route followed by birds migrating to and from their breeding areas.
It is estimated that no less than 1.5 million birds migrate twice a year through this flyway, the second most important in the world, between their breeding grounds in Europe and wintering areas in Africa. There are 37 species of soaring birds that accomplish this epic journey in which some will cover a distance of 10,000 km.
But rampant development along the Red Sea coast and the associated destruction of the habitat, the poorly managed water treatment plant facilities and use of pesticides, wind farms, transmission lines and hunting activities all pose threats to the birds' long journey across continents.
Sponsored by the Egyptian Environmental Affairs Agency and the NREA, the December workshop invited several organizations to participate including the United Nations Development Program (UNDP), the World Bank, the Japan International Cooperation Agency and the International Finance Corporation, in addition to national regulatory bodies and BirdLife partners from Egypt (Nature Conservation Egypt) and from each participating country.
Representatives from 11 countries along the flyway participated in the workshop: Lebanon, Egypt, Syria, Jordan, Ethiopia, Djibouti, Eritrea, Yemen, Saudi Arabia, Palestine and Sudan.
BirdLife International, which convened the two-day workshop, is a global partnership of conservation organizations that focus on birds, their habitats and global biodiversity.
NREA Chairperson Leila Georgy Yussef reminded the audience that Egypt aims by 2020 to generate 20 percent of its energy through renewable sources (12 percent wind, 6 percent hydro and 2 percent solar energy).
"We need to make sure that wind turbines and transmission lines are designed to mitigate risks to birds," she said, while stressing the importance of conducting Environmental Impact Assessment studies (EIA) "to avoid a detrimental impact on biodiversity and nature."
This is quite a strong statement coming from the NREA, which had to abandon 60 percent of the 650 square meter slot allocated to them by the Tourism Development Agency in 2006 in Gebel Zeit, north of Hurghada, to install wind turbines, after a feasibility study found it could cause threats to migratory birds. Only 25 percent of the plot of undeveloped land received the green light from authorities.
Figures of bird fatalities have been recorded and reported all over the world, and according to Marcus Kohler from BirdLife International, a small number of misplaced wind turbines have caused most of the deaths.
Up to 10,000 electrocutions and as many as 100,000 collisions are estimated to occur per country in the African-Eurasian region each year. In 2010, a study conducted in Sudan recorded 17 electrocuted carcasses of the Egyptian vulture, a globally threatened species, over a two-month period.
According to Kohler, a honey buzzard can fly 55km per hour and 450 km in a day, using on average 5.7 thermals an hour and barely flapping its wings.
Migratory birds use thermals, or shimmering columns of hot air created by the reflection of the sun on the ground, to launch themselves into the air. This way, they can fly long distances almost without flapping a wing, and glide down a thermal before reaching the next one where they rise again.
"Data suggest that some species are more vulnerable than others to collisions," says Kohler, taking the example of vultures which have a low reproduction rate and don't look in front of them but down to the ground. "Vultures are such an important species: they eat waste and carcasses and clean up the ground," Kohler says.
Bjarke Lubeck is the manager of the Environmental and Biological Consultant Firm Enbicon. He says that in mountainous areas, birds use updrafts to soar, the wind forced up by mountains. "So if you have a project development in an area with different altitudes you are more likely to have lower flying birds and more casualties," he explains.
Wind turbines are 100 meter high poles, and although birds usually fly at a higher altitude, a weather change coupled with poor visibility can lead flocks of birds to collide with turbines. Birds also tend to fly closer to the ground in bottleneck areas.
The electricity shortages of the past two summers have demonstrated that Egypt is still not capable of coping with rising demand. "Since 2001, Egypt has 550 MW of installed wind power capacity," explains Ehab Ismail, the general manager of the planning department at NREA.
"The 31,000 MW of combined energy sources we garnered by the end of 2011-2012 proved insufficient to meet the peak demand of the summer," he says, adding that over 7,600 square kilometers of land have been allocated for the development of future projects.
In order for these future wind farms to be as sustainable as possible, with the minimum negative impact on birds and biodiversity, a memorandum of understanding was signed on Monday between the EEAA and the NREA, under the supervision of the UNDP.
Amany Nakhla, director of environment and energy at the UNDP, explains that through this memorandum, the EEAA will provide capacity-building for future projects on matters of conservation, biodiversity and migratory birds, while the NREA will keep the renewable energy agency informed of any new projects.
To mitigate the wind farms' threats to birds, the Migratory Birds Project also has come up with a set of guidelines. Wind farms and transmission lines have to be kept at least 5 kilometers away from the coastlines, and the turbines should be spaced out to make corridors for the birds.
EIAs have to be conducted to identify risks in any new location, and conservationists should be able to monitor the area for up to three years after the construction of the farm. The guidelines also encourage the construction of power lines and turbines in parallel to land features in order to be less of a barrier for birds.
Daniel Shambracks is a senior environmental and social advisor for the German development bank KFW, which finances renewable energy projects, including wind farms, in Egypt.
He says one of the systems that can greatly reduce the birds' mortality rates is the use of a "radar supported shutdown on demand. The radar detects birds as far as 30 km away, and alerts a group of observers equipped with binoculars who can identify which turbines to temporarily shut down according to the flock's direction," he says, adding that Portugal is successfully using this system.
"The main problem we are facing," explains Mindy Baha el-Din, an ornithologist and member of NCE, "is that the locations with best wind speed are always the ones that are bottlenecks and favored by migratory birds, as well as wind farms developers. So we need to find a compromise, a middle point between conservationists and the energy agency to mitigate the negative impact on biodiversity while developing alternative sources of the energy that Egypt so direly needs."
This piece was originally published in Egypt Independent's weekly print edition.