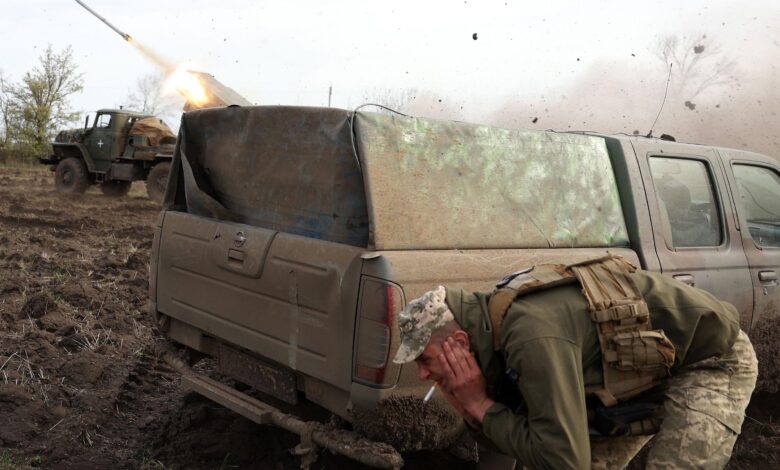 Ukrainian Deputy Defense Minister Hanna Maliar says Russian losses in the battered eastern city of Bakhmut are several times higher than Ukrainian ones, while conceding that Moscow's troops have been advancing in some areas of the city.
"The enemy has thrown all its efforts to take it under control. They have concentrated not only their main professional units there — Wagner, special forces, air assault troops — they are also sending weapons and equipment there," Maliar said in an interview with Ukraine's state broadcaster on Wednesday. "They cannot fight street battles with us because they are losing in them, so they have resorted to their proven Syrian tactics and are actually wiping out buildings. In such a state, it is very difficult to hold positions."
"In fact, it is impossible to hold them in such a situation. Indeed, in some areas there is a slight advance of the enemy," she added.
That advance, though, came at a cost for Russian forces, Maliar added.
"For them [the Russians], this is probably one of the most expensive operations, because it has already cost a lot of equipment and weapons, which, by the way, have been destroyed by the Armed Forces to a large extent," she said. "They are suffering huge losses there. These losses are several times higher than our losses. Our planning leads to the fact that we have minimal losses that could be incurred in such battles."
Maliar said restraining Russian forces in Bakhmut was an important task, not just because of the losses Ukraine was able to inflict on Moscow but also because it prevented its armies from advancing further.
"This is a very important defense not only for this settlement, but it is important in the context of the enemy's movement deeper into the territory," she said.
Some key context: While leaked US intelligence documents allege troop casualty numbers, death tolls for both Russian and Ukrainian service members are difficult to pin down, and CNN cannot independently verify either side's reported death toll.
Back at the end of March, US Chairman of the Joint Chiefs of Staff Gen. Mark Milley said the battle over Bakhmut has turned into a "slaughter-fest" for the Russians and Wagner mercenary group fighters.
Serhii Cherevatyi, the spokesperson for the Eastern Grouping of the Ukrainian Armed Forces, said earlier in April that Wagner fighters have been "the most aggressive in the Bakhmut direction," but Russian paratroopers and infantry soldiers are also fighting in the area.
CNN's Radina Gigova and Maria Kostenko contributed reporting to this post.