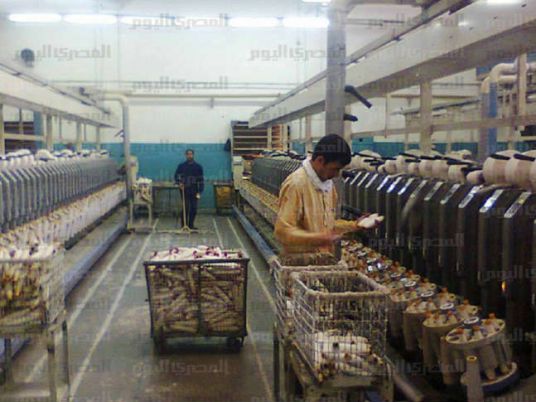 More than 6,500 laborers at 650 factories for textile industries in Monufiya are vulnerable to loosing their jobs due to dependence on imported textiles and textile products from overseas.
Waheed, owner of a textile factory in the village of Kafr Hilal in Monufiya, says the cause of the crisis is flooding the market with Chinese fabrics at lower prices than local fabrics.
"We are suffering from a process of extermination of the Egyptian product," said Waheed.
We tried to develop the machinery over the years, but the government does not consider our situation despite our appeal for help more than once to save the spinning industry, he added.
On the ground floor of a small house in Kafr Hilal that is Waheed's factory lie four machines for spinning that have all stopped working. On the second floor lives Waheed and his family.
Ramadan, a 60-year-old worker at another factory in Kafr Hilal, said said he inherited the profession from his ancestors. "We used to be a stronghold of the textile industry in Egypt and the Arab World. Now I keep walking all day daily in search of an open factory for few hours to earn a living," he complained.
"Kafr Hilal workers used to struggle for a half-day break when machinery in factories used to operate over three shifts daily and did not stop except for maintenance," Ramadan added.
"We have been asking officials to support the spinning industry in Kafr Hilal over four years and no one cares. Protest has become the only way officials can hear us," he mentioned.
Ramadan has not received a full salary over the past four years as he used to get 20 percent of his monthly salary every 12 days, prompting him to shift from a master craftsman in the spinning industry to a hired worker on farms daily.
"My family eats one meal and starves the next," he said. "I look for any farmer I can help in harvesting potatoes and clovers, which is not my profession."
On the way to his small factory, Mounir Abdel Moneim, says: "The village turned from a castle for spinning industry into a cemetery. Factories closed doors with locks, and some have not opened for years."
"The government encourages the Chinese product at the expense of the Egyptian product, although we know Chinese products are of very low quality," Abdel Moneim said.
Abdel Moneim established his factory on the first floor of his house like most small factory owners in the village who could not afford for buying a factory in the industrial area.
"Those who [had their factories] at the industrial area received subsidized electricity and energy," he added.
The problem, Abdel Moneim explains, is in an agreement with the Industry Ministry that allows companies to import Chinese textiles without paying high taxes or customs with the pretext that they are being used for production materials, when in fact, they are merely imported to be sold at the expense of Egyptian textiles.
These merchants were a means for China to seize the fabrics market in Egypt and hurl consecutive blows to our industry without making any effort, he said. "The biggest crisis is that those products harm the Egyptian people. We examined them and found out that the texture of the yarn was a layer of [fiber] sprayed with chemicals."
"Therefore it is of lower quality and can pose a risk to the health of the Egyptians," he added.
The textile industry is not in need of any loans. All the workers want is a visit from President Abdel Fattah al-Sisi to the village, saying factory owners addressed the prime minister, the minister of industry, the governor and officials of the Supply Ministry, without response on their part, he said.
The government sacrifices millions of workers in the yarn and spinning field, he added.
Ayman Mohamed Sobhy has owned a factory inside his house since 1994.
"The Chinese whale began attacking us two years ago, slowly, and we discovered that the Chinese fabrics, which flooded the market are imported as production requirements."
"Ninety percent of those products are contraband as importers do not pay taxes on them, which allows selling them on market for very low prices," according to Sobhy.
Traders bought with our money Chinese goods because the consumer only cares for the price, he added. "I had 12 workers at my factory, today they are only three and they do not get their full salary."
"We have no choice but to lay off workers and stop factories," Sobhy said. "We paid for 12-month tax, although we suspended work for 11 months, under the pretext that we stopped temporarily… The laws do not leave us a space to move and act to remedy the problem caused by the government's decisions."
"The crisis is not only in Monufiya," said small factory owner Hany Ahmed Shabrawy. "Imported fabrics completely ruined the profession. We have no chance to compete with the Chinese fabrics. The gap in price cannot be covered."
Factory owner Hosni Mahmoud said: "I inherited the factory and the profession from my father and ancestors. The crisis started since the 25 January revolution."
"My factory operates for one shift nowadays if we receive an order… We had 20 workers, now I have only three…We cannot sell now 1 percent of our products after we used to produce 94 percent of the textile and curtains Egyptians used. Machines have been suspended for eight months," according to Mahmoud.
"The industry has been facing a crisis for more than four years, and the profession is being killed," said factory owner Walid al-Sabagh. "Other related occupations are suffering as well because manufacturing has stopped, and the market is stagnant because of imported and smuggled fabrics."
Edited translation from Al-Masry Al-Youm