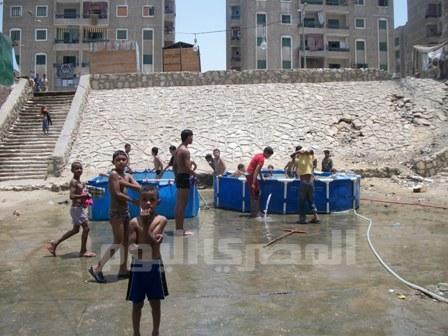 As the temperature started rising, Duwaiqa resident Um Ahmed came up with an idea that would please the children in her working class neighborhood in Cairo and put some extra cash in her pocket.
Duwaiqa residents cannot afford a trip to one of Egypt's many resorts, but using a number of portable swimming pools, Um Ahmed brought a resort to the neighborhood. The children's laughter and the sound of splashing under the neighborhood building balconies reminds one of the Maamoura Beach and its resort villas, with nothing missing but the beach itself.
The 50 piasters children used to beg their parents to give them so they could play video games is now used for swimming. Um Ahmed's plan to make some extra money while giving the neighborhood children a place to cool down and have fun paid off. But Um Ahmed is not the only neighborhood woman to set up a portable swimming pool; in fact, she got the idea from other women who had set up portable swimming pools throughout the district.
"I wanted to give the neighborhood children a way to have fun while making money," she said. "Many women in the area have done this, and they are making money so I thought it would be a good way to help out in the household expenses."
In order to ensure the children's health and safety, a hose shoots a continuous supply of fresh water into the pool to ensure the water is constantly renewed, while Um Ahmed supervises the children to prevent accidents.
Edited translation from Al-Masry Al-Youm