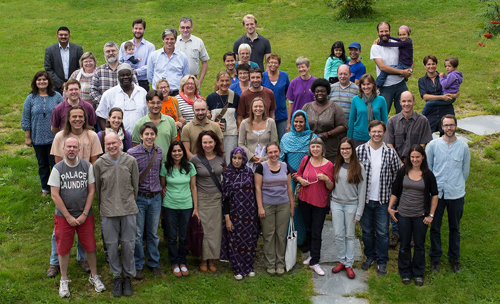 Not many Egyptians are able to move out of their parents' home aged 16. In fact, most Egyptians continue to live with their parents through their college years and after, with only a handful managing to jump ship.
But for Abanob Salib, events took a different turn after his sweet 16. Salib, who grew up in Minya, is among a group of nine Egyptians currently studying at one of 12 United World Colleges (UWC) around the world, on full or partial merit-based scholarships.
UWC was conceived in 1962. Like many initiatives that began in the Cold War era, the aim was to bring young people together from across continents and show them there was an alternative to war — a hope that still persists today.
For more than 30 years, Egypt has been sending students to pre-university colleges teaching the two-year International Baccalaureate (IB) Diploma.
All colleges offer an educational experience based on shared learning and understanding so that graduates will champion for peace while accepting the realities of conflict.
But, ultimately, these experiences are pivotal in shaping young people's futures, buoying them into competitive academic environments and nurturing their talents across different disciplines.
The IB, gaining ground globally and carving its way into some schools in Egypt, is equivalent to the last two years of secondary school in Egypt's public education system.
"Being a UWC student is the strongest and best challenge of my life," says Salib, who is completing his second and final year at the college in Mostar, Bosnia-Herzegovina.
"Before I came here [to UWC] my aim was to be an engineer, since my brother is an engineer and my father as well. Here I saw many opportunities. I found my talents and discovered that I can actually do and learn the arts. That is the thing I love to do," he says.
Salib is currently one of the organizers of the Mostar Street Arts Festival and a member of the college's rock school, having learned guitar from his roommate last year. He is also studying theater as an IB subject. Prior to his enrollment, Salib was trained in marionettes and origami.
"My dream of being an engineer changed to becoming an artist who can contribute to society and make a difference. Now, my aim is change through the arts," says Salib.
Indeed, those who recount their UWC experience often refer to the self-exploration journey they went through and how it often involved more questions than answers.
Meanwhile, Ehab Ebeid, a first-year Egyptian student at Li Po Chun United World College of Hong Kong, is preparing for a degree in architecture.
"I applied to UWC with a very vague idea of what I wanted to do in life. I thought that when I left the plane in Hong Kong, everything would magically become clearer. But that was very far from the truth," says Ebeid.
He says the experience has confirmed that it's not always easy to bind oneself to a certain field of study and profession. "Right now, I intend on studying architecture at university and my school subjects include physics and visual arts," says Ebeid.
Taking the first step
In Egypt, publicity, administration and preparation for selecting students is done by a national committee of UWC alumni keen on keeping the movement alive.
A call for selection is put out during the early months of the year. Prospective students are able to access the application form through the national committee's webpage. After submitting their forms, applicants are invited to sit for an exam that tests their IQ, general knowledge, and ability to express and reflect through essay questions.
All applicants must be 16–18 years old. Only the highest-performing students are then called in for interviews. The committee does not stipulate that students return to Egypt after graduating.
"I believe students should follow what fits them. You can't ensure they give back but you can ensure that, wherever they are, they'll have a greater appreciation of the big picture and care about the wellbeing of everyone in their environment," says Ramy Tadros, a graduate of UWC Hong Kong and current member of the national committee.
For his part, Salib volunteered in his hometown of Minya between his first and second years. "I loved the idea of helping children who did not have a chance to learn or be educated. … I'm teaching them how they can reshape a random piece of paper and make something nice out of it. Thus, I'm sharing my experiences and I'm learning from them as well," he says.
However, with a lofty degree now in hand, many go on to apply for universities abroad.
For the duration of their studies, students are, by default, ambassadors for their countries and geographical regions. When asked what advice he would give prospective students, Ebeid says, "to learn more about their own culture and history — I've always felt that representing [maybe presenting] Egypt well is a priority."
A challenging journey
Naturally, living away from home comes with a number of challenges, exhibited in many different forms. For Lamis Adel, a first-year student at the Red Cross Nordic United World College in Norway, it was an opportunity to cement her identity.
"It was challenging to clear the stereotypes people have toward me as an Arabic veiled girl, to explain certain religious and cultural topics and to totally depend on myself in everything," she says.
For Salib, it is the academic load: "For the first time, I am studying in a different language and in a really strong program of education."
Tadros says the diploma enables students to take what they're learning beyond the textbook-learning style common in Egypt. "Students are usually pushed to their limits, especially in a UWC setting, where teachers and students form a strong sense of community," says Tadros.
What the schools offer is a competitive pre-university degree requiring students to take six interdisciplinary courses, write a research paper and complete community service throughout their two years, to enable them to develop a sense of social responsibility.
Add to this the enticement of living in an intercultural setting where daily events are held on and off campus — from attending national nights and debate nights to joining a firefighting squad or a night watch — with students urged to immerse themselves in a jumble of incomparable opportunities and the attraction is clear. At the end, it is with a lot of sadness that students leave an environment they get so attached to, but also with long-lasting friendships.
As Salib says, "What we are learning here is much more than simply an IB."
To apply, visit: www.eg.uwc.org
Application deadline: 20 March 2013
Information session: 16 March 2013 at
Cervantes Institute, 20 Boulos Hanna St., Dokki
For more information, call: 010-9416-6972
This piece was originally published in Egypt Independent's weekly print edition.