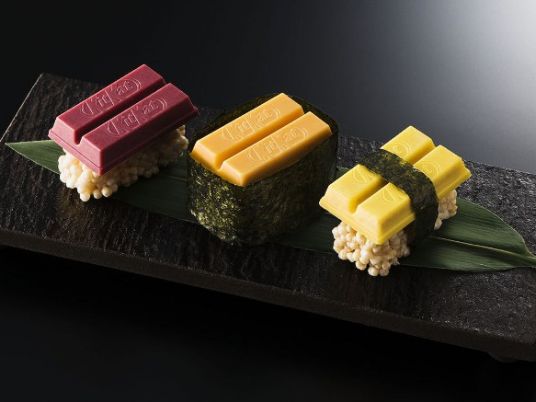 KitKat has just released images of its wild new "sushi" sets and we can't decide whether to be relieved or upset about the fact they're only available for a limited time.
The bars come in three flavors, which fortunately don't taste anything like the varieties of sushi they're modeled to look like — unless you count the seaweed.
There's tuna sushi, which actually tastes like raspberry. The seaweed wrapped sushi omelet is really a pumpkin pudding KitKat.
Lastly, the sea urchin sushi is a Hokkaido melon with mascarpone cheese KitKat.
All three have a base made of puffed rice with white chocolate and a hint of wasabi.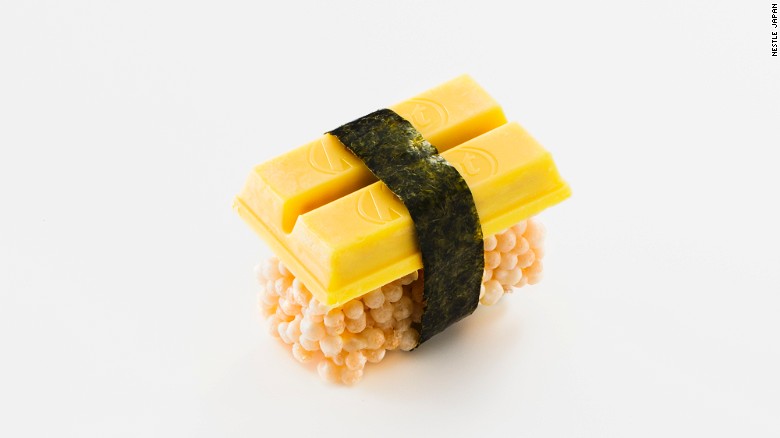 Sushi Omelet KitKat: A gentle taste similar to omelet that combines the sweetness of creamy pumpkin with the flavor of laver (seaweed)
Inspired by an April Fool's Day joke
KitKat has long been famed for venturing into unusual territory in Japan.
Wasabi, lemon vinegar and sake are among the 300 varieties of KitKat bars to go on sale there since the early 2000s.
Some versions have managed to find fans in overseas markets, too, with green tea-flavored KitKats now available in shops worldwide.
But this is the first time the brand has ever released a set inspired by sushi.
To some palates, the latest flavors might border on the bizarre. Butter KitKat, anyone?
Reps from KitKat owner Nestle say it all started with a 2016 April Fool's Day social media post featuring a mock advertisement for sushi KitKats.
The response was so strong they decided to go ahead and create a few for real.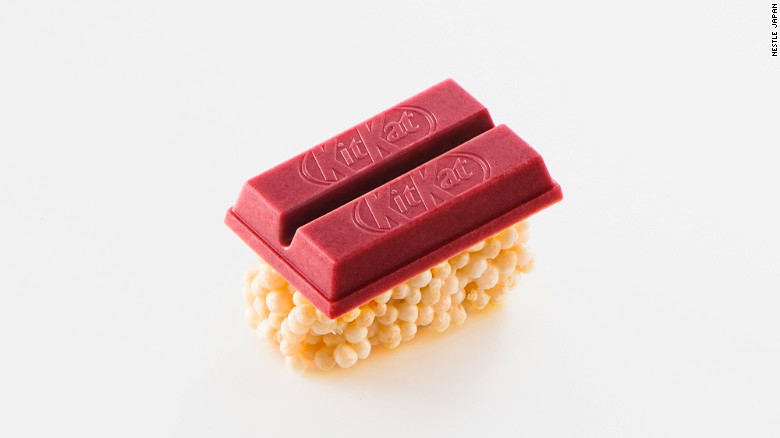 Sushi Tuna KitKat: A refreshing taste similar to tuna that combines white chocolate with subdued sweetness and the tartness of raspberries.
Miki Kanoh of Nestle Japan's Corporate Affairs Group tells CNN the special edition sets will be given out to visitors who spend a minimum of 3,000 yen ($26.47) at
Tokyo's newest KitKat Chocolatory shop, located in Ginza, from February 2-14.
The Ginza branch will be the ninth Chocolatory but the first on ground level. Befitting its location in Tokyo's swankiest neighborhood, shop visitors will have access to new and more luxurious services, says Nestle.
As with all Chocolatory stores, it will offer a huge range of KitKat items, many of which come in beautiful gift packaging.
Sometime in the next few months a cafe serving KitKat-based items will open on the second floor as well.
Visitors will also get to create their own original KitKats using the toppings of their choice.