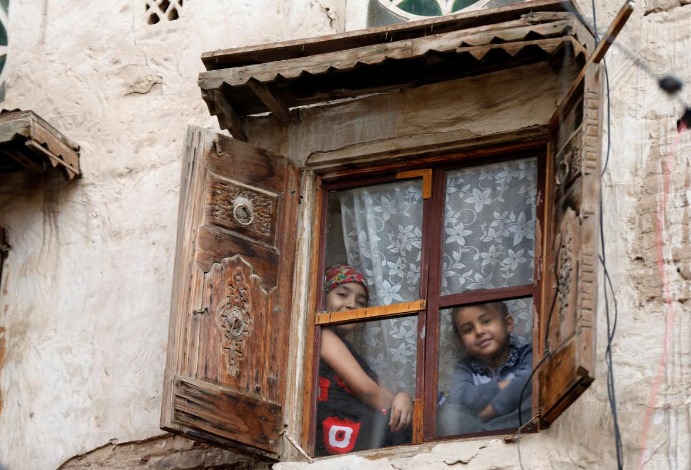 SANAA (Reuters) – Yemen's three-year war has taken a heavy toll on Sanaa's historic Old City, a dense warren of mosques, bath houses and 6,000 mud brick houses, which date from before the 11th century.
Part of the Old City, a UNESCO World Heritage Site, has been razed by bombing. Now only rubble and straggly palm trees remain, where unique tower houses once stood.
"Many buildings have been badly damaged and are only skeletons now," Umat al-Razzak, manager of traditional housing, told Reuters.
The Old City is dominated by two hues – that of the baked mud bricks and of the lighter gypsum used for the houses' ornate arched window frames and external geometric decorations.
Sanaa is said to have been founded two and half millennia ago and its old heart once bustled with traders and drew tourists in calmer times.
The ancient city remained an area of relative calm during the 2011 uprising in Yemen which led to the downfall of late President Ali Abdullah Saleh, but the war between the alliance of Sunni Muslim Arab states and the Iranian-aligned Houthi movement that now controls the capital has brought havoc.
Resident Abu Hani-Elaifa said he remembers clearly the night in September 2015 — the year that a Saudi-led coalition intervened in Yemen's war — when his neighborhood was hit.
"I was standing outside my house. There were warplanes overhead and then they hit this house while the family was having dinner," he told Reuters, pointing to the rubble which still lies there.
UNESCO said it is assessing the impact of the conflict on the Old City and other sites in Yemen, but it was too early to quantify the extent of the damage.
"Unfortunately, it is not a situation unique to Sanaa, as heritage has been affected in all parts of the country," Director of the World Heritage Centre, Mechtild Roessler, said in a statement to Reuters.
The organization listed the al-Qasimi area in Sanaa, the Old City of Saadah and Marib Dam, the archaeological city of Baraqish, Al Qahirah citadel in Taiz and Hadramout's ancient tombs as being severely damaged. It said the 9th century mosque of Bani Matar and Dhamar Museum have been completely destroyed.
"UNESCO reiterates the utmost need for all actors in the conflict to avoid destruction of irreplaceable sites, monuments and museum collections in Yemen, which are critical to the identities of local people and of global significance for the history of art, architecture, science and culture."
Residents in Sanaa hope the Old City will not be forgotten.
"Protecting this city is an international responsibility, not just a Yemeni responsibility," said Abdullah Ahmed al-Kabsi, the official in charge of culture in the Houthi administration.
Reporting by Reuters staff in Yemen and Tuqa Khalid in Dubai; Editing by Alexandra Hudson.