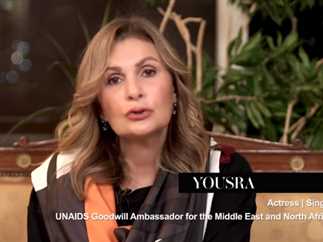 Egyptian actress Yousra has begun filming on her latest role in the drama series "Ahlam Saaeda" (Happy Dreams), set for the upcoming Ramadan drama season.
The series is written by Hala Khalil and directed by Amr Arafa, who previously collaborated with Yousra in the series "Saraya Abdeen".
Youstra stars alongside Ghada Adel, May Kassab, Nour Mahmoud and Nabil Nour Eddine, in addition to a group of other actors who will be announced later.
Since "Ayna Qalbi?" (Where is my heart?) in 2002, then "Malak Rohi" in 2003, Yousra is known for performing television series that discuss the most important societal issues. She also presents rising stars who later become famous celebrities. Last season, Yousra presented "Harb Ahlia" (Civil War) with Basil Khayat and Jamila Awad.