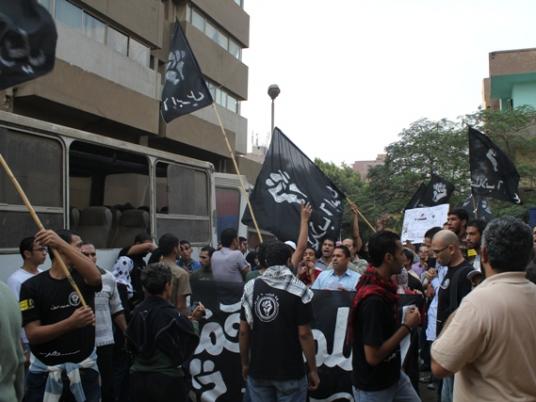 Dozens of April 6 Youth-Democratic Front members marched to Tahrir Square Tuesday, following a protest outside the prosecutor general's office denouncing the disappearance of member Khaled al-Aqqad.
The protesters chanted against the government, Prime Minister Hesham Qandil's Cabinet and Interior Minister Mohamed Ibrahim. They also demanded an investigation into Aqqad's disappearance.
Others called for the boycott of elections and purging state institutions of corruption.
Aqqad disappeared after refusing to spy for the National Security Agency, said member Sherif al-Rouby.
The group's spokesperson Mohamed Youssef told Al-Masry Al-Youm his group is working on ways to force officials to reveal what happened to Aqqad.
Dozens more activists staged a protest outside the NSA headquarters in Nasr City in support of Aqqad that same evening.
The group announced Monday that Aqqad had disappeared on his way home, accusing the NSA and the Interior Ministry of being behind the incident.
Several activists have gone missing of late, with some being found dead weeks later like Mohamed al-Shafei.
Shafie's body was found on 26 February. An autopsy showed he had died from a birdshot wound to his head on 30 January, a day after he had gone missing.
The death's have prompted calls for investigations and further allegations that security forces are engaging in widespread torture of protesters.
Edited translation from Al-Masry Al-Youm