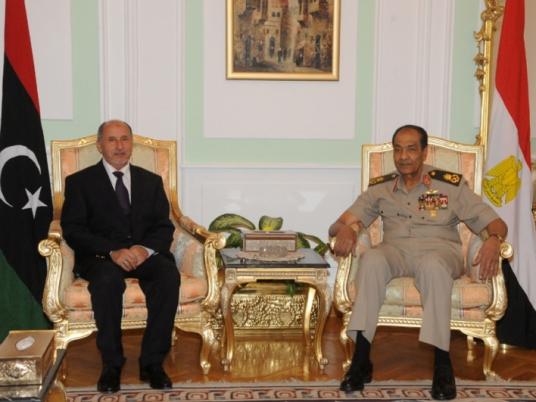 A group calling itself the Youth of the Libyan Revolution has issued a statement expressing support for the Egyptian revolution and demanding an end to military rule in Egypt ahead of Field Marshal Hussein Tantawi's trip to Libya.
"Since we share the same destiny, sacrifices and blood, and since we make the same demand of bringing down tyrannical regimes in our nation and establishing democratic civilian regimes, we stand by our brothers, the youth of the Egyptian revolution," read the statement issued on 15 January to preempt Tantawi's visit.
"We voice their very same demand of bringing down military rule… and of handing over power to civilians," the statement continued.
The statement, which was issued online and signed by the Youth of the Libyan Revolution, condemned what it described as the "barbarity, brutality and illegal practices of the Supreme Council of the Armed Forces (SCAF) and its president."
The statement said Tantawi transformed from "the head of an institution that protects the revolution and its goals into someone who circumvents the revolution, devours revolutionary youth and prevents them from staging protests and sit-ins."
Tantawi flew Monday morning to the Libyan capital of Tripoli, where he will hold talks with Libyan transitional authorities. Egypt hopes to play a role in Libya's reconstruction efforts.
Mass protests are expected to be staged in Egypt on 25 January to call for a swifter handover of power to civilians.
The SCAF pledged to transfer power to a civilian president by the middle of 2012, and announced that presidential nominations will begin on 15 April. However, activists and revolutionary youths remain skeptical of the SCAF's pledges and generally regard the military council's rule as an extension of the Mubarak regime.
Translated from Al-Masry Al-Youm