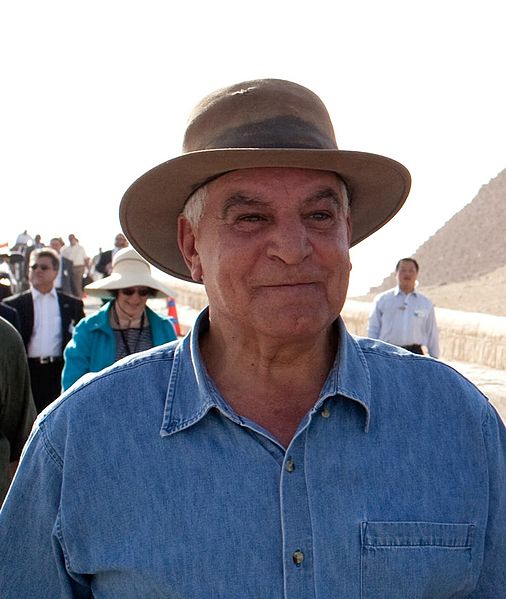 Egyptian archaeologist Zahi Hawass said that during one of his lectures in Los Angeles he was protested by people objecting to his refusal to consider Cleopatra being Black.
They carried banners with slogans against him, he said, adding that they had fallen for false information.
During a phone interview with "Hadith al-Qahira" (Cairo Talk) talk show on the "al-Qahira wal Nas" (Cairo and the People) channel, Hawass stressed "We are not against Blacks, and if the same situation happened with the continent of Asia, I would object to them."
He emphasized that Cleopatra was burgundy in color, and not dark-skinned, and this a fallacy bought into by African Americans.
Hawass pointed out that "our film, which we released about Cleopatra, also received international attention, and this film responded strongly to the whole world."
"The paintings on the walls of temples confirm that the kings are not Black," he explained.
"African-Americans have entered a fallacy, they are a minority and raise these lies in order for the world to say that the Egyptian civilization is a Black civilization, but our film answered them strongly."
Hawass added that ancient Egypt's history is strongly established and these historical lies will have no impact on it.
'They are stealing my culture'!
Egyptian satirist and journalist Bassem Youssef slammed Netflix's "Queen Cleopatra", calling it a falsification of history after it released the special trailer for the documentary series which revolves around the Queen Cleopatra VII, the last
Youssef Tweeted: "People from West Africa and other nationalities agree with the point of view that I put forward. It is very important when we defend our point of view or our history that we do this with politeness and respect for other civilizations."
"It is never true that while we defend our history we insult or underestimate other ethnicities or civilizations, that is why I insisted that I speak with respect about the civilizations of West Africa, because these people are not our enemies and they will respect us when we respect their history."
One of Netflix's most disliked trailers
The "Cleopatra" documentary trailer officially has become one of Netflix's most disliked trailers, on YouTube, with more than 250,000 dislikes, which forced Netflix to close comments on the trailer, in an attempt to control the accusations brought against it of falsifying history, and preventing audience from expressing their opinions, according to the Mirror newspaper's website.