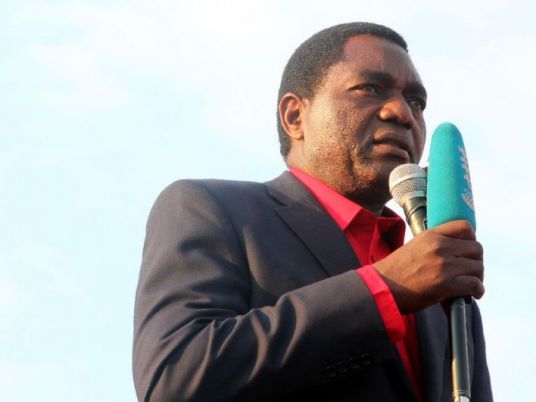 Zambian opposition leader Hakainde Hichilema, who refused to accept defeat in last year's presidential election, was detained Tuesday on treason charges, his lawyer said.
Police were not immediately available to confirm the charges, which came after a dispute over Hichilema's vehicles allegedly obstructing President Edgar Lungu's motorcade on a main road.
More than 100 armed police surrounded Hichilema's house outside Lusaka overnight, and tear gas was fired before a raid when he was taken into custody, AFP reporters witnessed.
"They have detained him on the basis that he committed treasonable charges," Jack Mwiimbu, Hichilema's lawyer, told reporters at the property.
Hichilema — who says he does not recognise Lungu as president — allegedly refused to give way to Lungu's convoy as they were both travelling to Western province for a traditional ceremony at the weekend.
Hichilema, head of the United Party for National Development (UPND), has launched several legal attempts to challenge the August election result.
He says that the vote was rigged and accuses Lungu of an unprecedented bout of political repression in Zambia, which has been known for its relative stability.
The election campaign was marked by clashes between supporters of Lungu's Patriotic Front (PF) party and the UPND.
'Barbaric'
UPND secretary general Stephen Katuka told AFP that police had mounted a violent operation to detain their leader.
"They broke [into] the house, tear-gassed the family including small children," said Katuka. "This is really barbaric."
Hichilema, known as "HH", was taken to a police station for questioning.
Treason is a non-bailable offence in Zambia, with a minimum jail term of 15 years and a maximum sentence of death.
"The PF party demanded action against HH after the motorcade situation," independent political analyst Neo Simutanyi told AFP.
"HH is still trying to challenge the result through the courts, but Edgar Lungu is president in theory and in practice.
"There is a lot of mistrust between the two sides.
"Under the treason charge, HH could be detained for some time, so this will suit the ruling party who want to silence the dialogue (about) the election result not being recognised."
Hichilema, a wealthy self-made businessman, has run for president five times and narrowly lost last August's elections.
International observers said the vote was marred by restricted opposition campaigning, intimidation and biased state media.
Last October, Hichilema and party vice-president Geoffrey Mwamba were arrested for unlawful assembly and sedition when they tried to visit supporters in jail.
Zambia, Africa's second biggest copper producer, recorded GDP growth of three percent last year — its slowest rate since 1998.