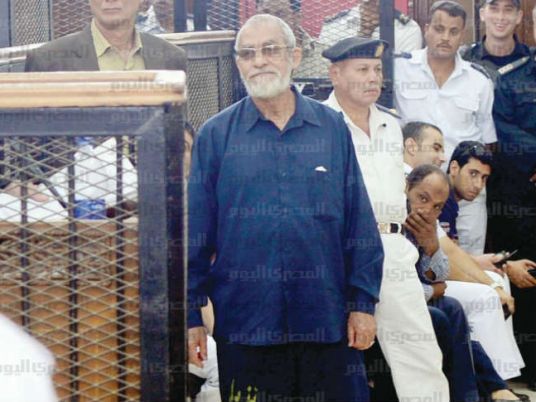 Shubra al-Kheima Criminal Court sentenced on Saturday 10 Muslim Brotherhood members to death, other 37 suspects, including the group's Supreme Guide Mohamed Badie, to life in the lawsuit known in the media as the 'blocking Qalyub road' case.
The defendants were found guilty of killing two people, attempting the murder of six others, damaging public properties and attacking policemen.
Among the defendants is a minor who was sentenced to three years in prison.
The court also fined the 37 suspects LE20,000, ordered them to be watched by police for five years and that their properties by managed by the Cabinet.
The 10 defendants sentenced to death include eight fugitives: Abdel Rahman al-Barr, the group's mufti and member of its guidance bureau, Gamal Abdel Hady, Azhar University Professor, Mohamed Abdel Maqsoud, vice-chief of the Jurisprudence Commission for Rights and Reform, Mohamed Emad Eddin, former MP, Hesham Khafagy, of the group's administrative office in Qalyubia, and members Mohamed Ali Abu Seida, Mostafa al-Badry and Emad Mohamed Fathy. The other two suspects were arrested two weeks ago including Hosham Marghany Tag, a group leader in Qalyubia, and Abdullah Barakat, Azhar University professor.
The 37 suspects include Mohamed al-Beltagy, the group figure, Safwat Hegazy, pro-Brotherhood preacher, Osama Yassin, former youth minister, Bassem Ouda, former supply minister, Mohsen Rady, former MP and others.
Edited translation from Al-Masry Al-Youm