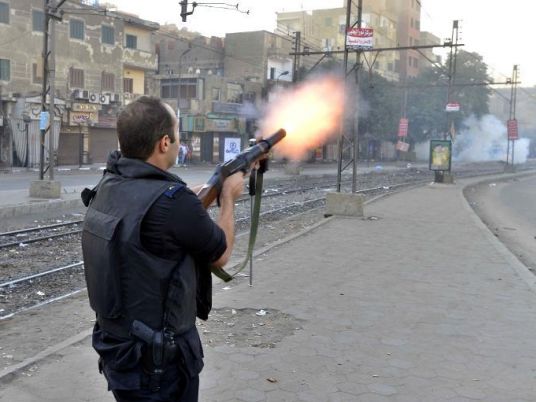 At least 11 people were killed and 46 others injured in clashes on Friday between pro-Muslim Brotherhood protestors and security forces in different parts of the country, according to Khaled al-Khatib, head of the Central Administration of Urgent and Critical Care at the Ministry of Health.
The protesters were killed in Cairo, Alexandria, Fayoum, Minya and Ismailia.
In Fayoum, southwest of Cairo, one person was killed and four others injured after violent clashes took place when security forces attempted to disperse three rallies staged by the pro-MB National Alliance to Support Legitimacy after Friday prayers.
Protestors chanted slogans calling to boycott the constitutional referendum scheduled to be held mid-January. They also demanded the return of deposed president Mohamed Morsy to power.
Police said that participants in the march allegedly opened fire against on security forces and threw bricks and stones at them, which prompted police to fight back, leading to the clashes that left one protester dead.
In the Suez Canal city of Ismailia, East North Egypt, another person was killed and eight injured in clashes between pro-MB protestors and police, according to medical sources.
Hundreds of MB supporters demonstrated after Friday prayers, in protest against the government's decision to declare the MB as a terrorist organization, and against the referendum on the new draft constitution.
Officials said that the injuries varied between gunshot and birdshot wounds, bruises and abrasions in different parts of the body.
Edited translation from Al-Masry Al-Youm