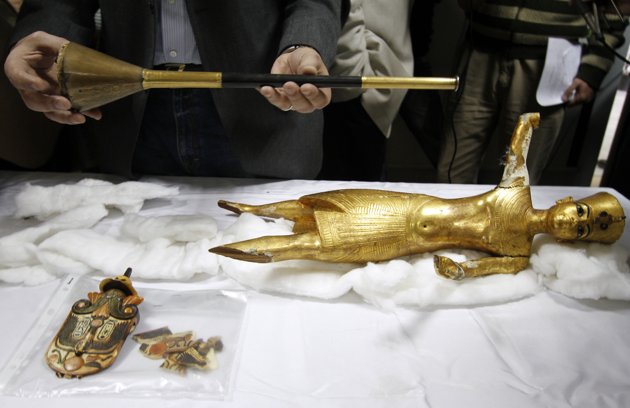 The Ministry of State for Monuments Affairs informed Interpol that 126 pharaonic artifacts were stolen and are currently being shown in two auction halls in Jerusalem. The ministry demanded necessary measures be taken.
In a statement, the ministry said it took immediate action once informed that Egyptian artifacts were being sold in Jerusalemso in order for required measures to be taken to stop the selling and promotion of around 16 pieces.
The statement added that the ministry contacted Interpol in Egypt to follow up on the issue with authorities in Jerusalem. The minitsry requested Interpol to call on Israeli authorities to conduct investigations and prove the halls possess the artifacts.
Monument Minister Mohamed Ibrahim said during the periodic check on websites of auction halls around the world, an auction selling 110 artifacts at Eweda hall were revealed in addition to another 16 artifacts that were being sold at Bidoon hall in Jerusalem. All of the pieces were from ancient Egyptian civilizations. Ibrahim also mentioned that the monuments' authenticity have not yet been confirmed.
Ibrahim added that the ministry addressed the Egyptian Foreign Ministry to coordinate with the Egyptian embassy in Tel Aviv to take measures to halt the selling of the antiques and confirm their authenticity. The Tourism Police were also requested to take up the issue with Israeli authorities.
The Eweda gallery displayed 100 artifacts at prices starting from US$150 to US$4750. Some of the primary auction items were pottery and statues, including one of the goddess Isis. Thirty-eight pieces were sold so far.
Bidoon gallery displayed 26 pieces, including statues of Osiris and Sekhmet. Prices ranged between US$200-US$12,000. Four pieces were sold so far.
The two galleries, located in Jerusalem, belong to two famous traders specializing in rare items belonging to different civilizations. They sell the items to customers across the world through a license granted by Israeli authorities. The items are shipped by DHL or UPS carriers within 7 days of purchase online through credit cards.
Edited translation from Al-Masry Al-Youm