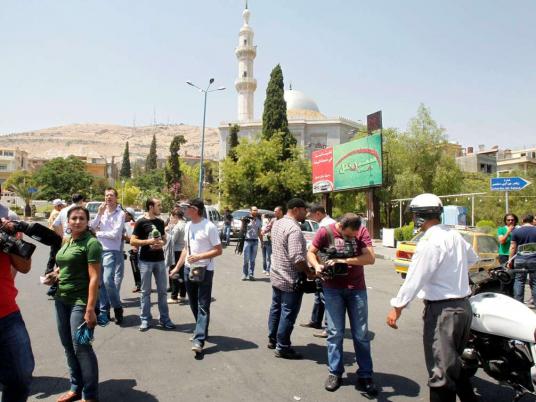 Syrian authorities have arrested 14 Egyptians who attempted to enter Syria illegally through Jordan's borders, according to Egypt's state news agency.
Alaa Abdel Aziz, the charge d'affairs at the Egyptian Embassy in Damascus, told MENA that the embassy has begun procedures to bring the Egyptian nationals home, having been informed of their arrest by the Syrian authorities.
He said the embassy has also asked the Syrian authorities to clarify under what circumstances two Egyptian citizens were killed in Qaboun, in a rural area near Damascus, on Sunday.
Syrian state TV quoted police sources as saying that both Yasser Abdel Razek and Abdo al-Desoky Mossad were killed while participating in what it claimed was a "terrorist" group. One of the two Egyptians killed was 60 years old.
The embassy said it has demanded a copy of the investigations report and the handover of the bodies to the dead men's families.
The Egyptian Foreign Ministry has warned Egyptians not to go to Syria and has called on Egyptians currently living there to quickly return home.
The first Egyptian to be killed in the Syrian uprising against Bashar al-Assad, which started 16 months ago, was Eid Salah Eid. He was killed in March 2011 in the city of Deraa. Many other Egyptians have been killed since the start of the Syrian uprising.
Activists say that 19,000 people have been killed so far in a pro-democracy uprising that the Assad regime has repeatedly blamed on foreign infiltrators.
Arab nations announced plans Wednesday to seek approval from the UN General Assembly for a resolution calling for a political transition and establishment of a democratic government in Syria.
Edited translation from MENA