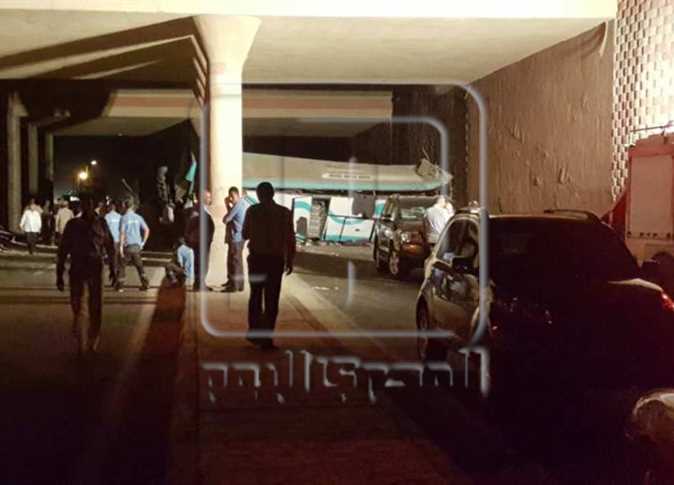 The death toll of a collision between a bus and a truck carrying poultry on Eastern Desert Road around midnight Tuesday rose to 15, Beni Suef Health Department announced.
Forty-two others were injured, seven of whom are in a critical condition.
The collison occurred in the Bani Swaif governorate, while en-rout from Cairo to the Minya governorate in Upper Egypt
Preliminary investigations into the accident found that the bus was speeding, causing it to fall from a bridge connecting Cairo- Bani Swaif Road to Bani Swaif- Minya Road.
The bus flipped and fell 6 meters, and thus landed on a pick-up truck loaded with chicken.
The spokesperson for the Health Ministry, Khaled Megahed, said that 23 ambulances were rushed to the scene, and that the first crew arrived at 12:40 am.
He explained the corpses were transferred to the morgue at Bani Swaif General Hospital. Megahed stated the injuries ranged between post-concussion, fractures and bruises, all injured were referred to Bani Swaif General Hospital.
One of the victims of the accident was Hassan Morsi, the son of the bus driver. Masry Al-Youm interviewed him in the hospital.
He defended his late father who died during the accident. He said that his father was an experienced driver, and he loved to travel with him. He added that he caught the bus at the last minute from Cairo to celebrate the Eid al-Adha in Minya.
"My father was not asleep (while driving). He has been a driver for a long time. This is not his first trip from Cairo to Minya. He is a first-class driver and he has worked for Upper Egypt Transport Company since the 1990s," Morsi said.
The Minister of Health, Ahmed Emad, has followed the developments of the incident closely.
Police forces closed the Eastern Desert Road from Cairo to Minya, and traffic halted until the road is cleared from the crash.
Edited Translation from Al-Masry Al-Youm