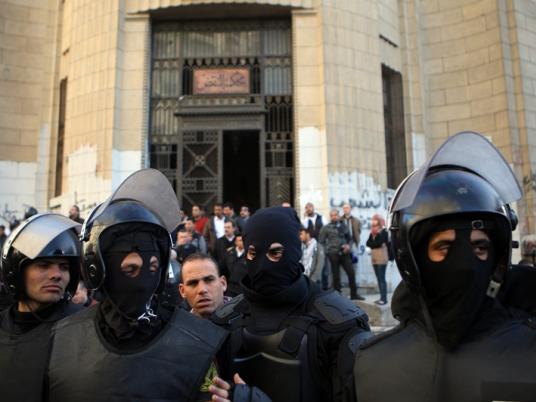 Eighteen suspects accused of belonging a group of protesters known as the Black Bloc were arrested on Thursday, and at least one is accused of ties with Israel, said the prosecutor general's office.
The Black Bloc is a previously unknown group that began appearing at demonstrations marking the anniversary of the 25 January revolution last week.
One suspect was arrested in a building on Tahrir Square, and allegedly was in possession of maps and documents pertaining to vital institutions in Cairo, including banks and oil companies, claimed a statement issued by the prosecutor's office, as reported in state-run news agency MENA.
The prosecution claimed that the map in question was Israeli-made, although he did not elaborate on how the authorities knew that it was Israeli in origin.
AFP quoted Israeli foreign ministry spokesperson Yigal Palmor saying he had no idea whether or not the Black Bloc member intended to carry out a plan of sabotage, but the claim of Israeli involvement was "utter nonsense."
Another individual was arrested in Mahalla while allegedly negotiating a deal with a garment factory owner to manufacture the black masks and outfits worn by Black Bloc protesters, alleged the prosecution.
The Mahalla suspect may have been attempting to recruit university students and youth to join the group, Yassin claimed, alleging that a number of students had testified that the suspect invited them to join the Black Bloc.
Orders have been given to the police and army officers to immediately arrest anyone in a Black Bloc mask.
Edited translation from MENA