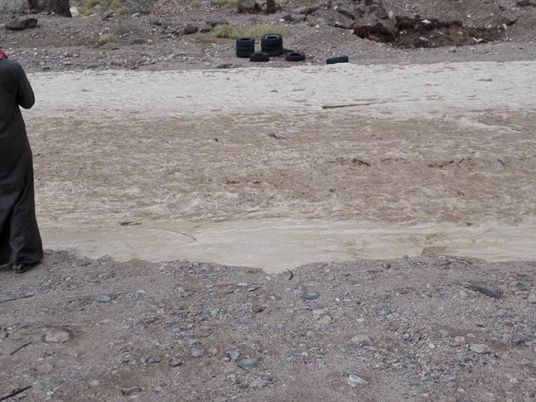 Four governorates were hit by flooding on Friday due to heavy rain, with at least 18 people illed and 65 injured.
There were power cuts and blocked roads in many areas, with five villages swamped by flood waters, many residents fleeing for fear of collapsing buildings.
While heavy rain has been felt in various parts of Egypt in the past two days, the governorates of Sohag, Red Sea, Assiut and Quena were hit by the worst flooding. Prime Minister Sherif Ismail has been in touch with governorate officials to help coordinate the response.
In Ras Gharib, Red Sea governorate, floods killed seven and injured 37 others, with dozens more apparently missing. The floods washed away around 100 cars in the city streets, and aerial photographs show floods across the city.
In Sohag governorate, four villages were hit by flood waters pourding down from a nearby mountain in the areas of Saqulta and Akhmim.
The water swamped the streets and the ground floors of houses in the villages of al-Jalaweya, al-Hager and Hussein Obeid in Saqulta City, and al-Sawamaa village in Akhmim City. Dozens of families fled their homes for fear of collapsing.
Three families were trapped in their homes in the village of al-Hager, with firefighters using a boat to rescue them.
On Thursday, six people were killed and 26 others injured after two buses and five cars were swamped by floodwaers on the Sohag-Qena Desert Road. The injured were taken to the Qena General Hospital. The military sent a helicopter to search the crash site.
In Assiut, floods continued on Friday night, killing five people and injuring two others. Part of the Cairo-Assiut Eastern Desert Road collapsed due to the floods.