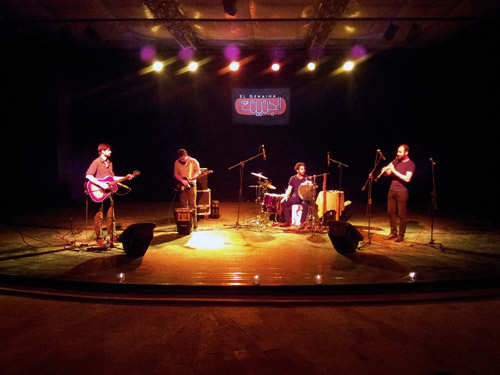 Last year's 100Lives electronic music festival at Rawabet Theater had a celebratory feel. "People were drinking in the streets, dressing more freely," says festival organizer Mahmoud Refaat.
"They were expressing the freedom they felt they had won."
But the 2012 edition, held on 14 and 15 June, felt more conciliatory than celebratory. It kicked off the night the Supreme Constitutional Court ruled the Political Isolation and Parliamentary Elections laws unconstitutional. Still, a few hundred showed up to see the 10 acts perform over the weekend.
Resident V-Jay Kareem Osman filled the blank wall-space in Rawabet Theater with projected images of a political tinge, but the mood was hardly activist or triumphant. The flickering cathode-ray texture gave what had been familiar a whimsical, dated, elegiac feel. They had a new bittersweet, ironic edge, too. An image of Hosni Mubarak appeared. There were quotations from presidential candidates. Scenes of Cairo. Corporate logos.
The acts fitted roughly into two groups: the crowd-pleasing bands (Egyptian electro-clash outfit Wet Robots & Bosiana, Lebanese drum-and-bass collective The DNB Project, Edinburgh jazz-fusion act Hidden Orchestra) and the more technical and virtuoso solo DJs (Kareem Lotfy, and the Dutch act Conforce).
Here and there, sometimes, amid a sea of nodding heads, dancers formed quorums, conferences, strategic alliances. Then dancing gradually spread outward, into the nodding heads. And sometimes there was almost a feeling of abandon.
"What has kept people going for the last few years are things like this," DJ Lotfy told Egypt Independent.
The local electronic music scene has only been around for two decades. In recent years, said Refaat, electronic music has grown in opposite directions: the fast-paced mixing and cutting of the shaaby genre and the cerebral orchestral soundscapes.
The expensive nightclubs, Refaat said, tend to make conservative music choices, offering up the same stable of established hits.
But some nights the different elements of the scene will dramatically re-converge, Refaat said. The 2011 Cairo Disco event, also held downtown, featured shaaby DJs alongside international acts such as British experimental electric duo Addictive TV.
"There was a collapse of class issues," Refaat said.
"We had the funky, trendy crowd, the expat crowd, the young revolutionary crowd hungry for music, we had the shaaby crowd, and we had the chic crowd. Without intending to, we had made a major statement of what was going on at the time, politically. People were saying, 'This is the way it should be.'"
The general sentiment now seems very different, though. Hidden Orchestra lead man Joe Acheson kept the mood delightfully modest, at one point warning the crowd, "We're going to play a slow number now. Then we're going to build it back up."
The mood during their set was melancholic and cinematic. It seemed to sum things up. In the words of one critic, it was the soundtrack to "the greatest movie never made."