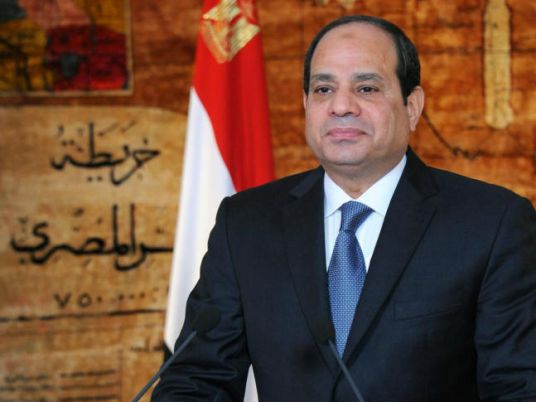 Egypt's Supreme State Security Prosecution on Sunday referred 292 defendants affiliated with the "Islamic State" group (Ansar Bait al-Maqdis) to military tribunal on charges of plotting for a number of terrorist acts, including the assassinations of the President and the Interior Minister, as well as a number of public figures, including judges.
Judicial sources told Al-Masry Al-Youm that 158 defendants in the case had been arrested, the culmination of investigations conducted over an entire year.
The sources said that 66 defendants had confessed, providing details of incidents pertaining to the case and information on the organizational structure of the terrorist group "Ansar Bait al-Maqdis", which later called itself "Islamic State in the State of Sinai" (Welayat Sinai).
The investigations included 19 incidents, among them the assassination of 3 judges in northern Sinai, in May of last year; the attack on a hotel in northern Sinai hosting judges who were supervising elections, in November of last year; and the assassination of colonel Ibrahim Badran in northern Sinai, in November 2014.
In incident number 17 of the case, the prosecution revealed that the defendants plotted to assassinate President Abdel Fattah al-Sisi through coordination between two terrorist cells, one in Saudi Arabia and the other one in Cairo.
The Saudi cell planned to target Sisi while he was performing the Umra Muslim ritual in Mecca. The cell bought materials that go into making explosive devices and stored it in level 34 of the Swissotel where it thought the president will reside in, after the presidency made a booking at the hotel. The cell left the materials at the hotel in anticipation of targeting the president over the coming year.
One of the defendants admitted that his wife had offered to wear an explosive belt to blow herself up to occupy security forces while the other members of the cell target Sisi.
The investigations also revealed two plots to assassinate Sisi in Cairo by a cell having 6 of the dismissed police officers (among the bearded officers) and one dentist. The leader of the cell was identified as police officer Mohamed Al-Sayed Al-Bakotshy.
Investigation showed that Al-Bakotshy prepared a training program for the cell based on two axes, one intellectual, depending on Takfiri ideas in organizational headquarters; and the second, military, based on taking alias names for each one of them.
The cell studied how to target the president's procession while it passes through by deploying among the security services, as they themselves are officers with the Central Security Forces.
They also examined how to target former Interior Minister Mohamed Ibrahim, because he was responsible for issuing the decision to break up the Muslim Brotherhood's Rabaa sit-in of former president Mohamed Morsi supporters.
Edited translation from Al-Masry Al-Youm