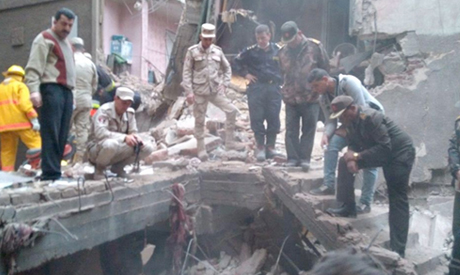 Egypt's Health Ministry said that three people were killed, including a child and an elderly woman, after a building collapsed on Thursday in Cairo's Manshiyet Naser neighbourhood.
18 others were announced to be injured as relief teams from Cairo's Civil Protection Authority and Armed Forces are still searching the rubble for more bodies, or survivors.
A Cairo prosecution ordered on the same day the formation of an engineering committee to investigate the incident.
According to the ministry, most of the injured have been released from the hospital after they were treated for minimal injuries, while two others are still in the hospital being treated for broken pelvises.
State news agency Al-Ahram reported on Friday that the municipal council had earlier issued an evacuation order for the collapsed buildings, and others on the same street.
Additionally, the Ministry of Social Solidarity announced that residents in the area will be "financially compensated within three days."
The area of Manshiyet Naser is a highly populated working class neighbourhood located in the eastern part of Cairo.
Glow, a non-governmental community service organization that operates in the area, announced the incident on its Facebook account, asking for donations to provide rescuees with food, blankets and shelter.
"A building collapsed yesterday near Bedayia building, in which Glow operates, in Manshiyet Nasser, resulting in the damage of the surrounding two buildings and the need for their evacuation. Till this moment only sixteen persons have been rescued from the rubble, three of which were dead, and there are people still trapped beneath the building. As rescue attempts continue, many people are left in the streets without food or shelter," the organization said.
Cairo governor also ordered officials to provide housing to the residents of the collapsed building.