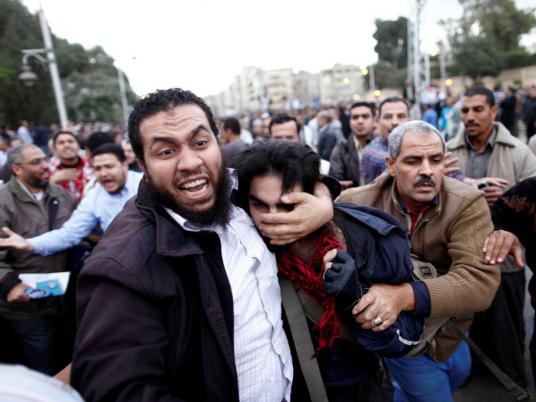 Security forces have arrested four suspects accused of attacking protesters demonstrating against President Mohamed Morsy in front of the Ettehadiya presidential palace on Saturday.
The incident started when a suspect identified as "Antar" attacked protesters, alongside some of his relatives and supporters, using Molotov cocktails.
Meanwhile, protesters apprehended a bearded man standing near the protest site whom they suspected of being involved, taking to a tent and beating him in an attempt to extract information about the attack.
Security was tightened around the palace. Protesters blocked Marghany Street as dozens flocked to take part in the strike.
A security source from the Interior Ministry said, "An officer from the Central Security sector [received a birdshot wound to] his face. Another six recruits were injured while chasing five suspects who threw Molotovs at protesters. The injured were transferred to Cleopatra hospital in Heliopolis for treatment."
"Unknown persons threw Molotovs on protesters. Civil Protection forces were able to control the fire, which injured 20 protesters and burned 10 tents. Security forces are still following the perpetrators," he added.
Protesters have been striking in front of the palace since November, when Morsy issued a constitutional declaration that ended after the Constitution was passed by popular referendum in December. Earlier in the same month, clashes erupted between Morsy supporters and opponents, in which 10 people were killed.
Edited translation from Al-Masry Al-Youm