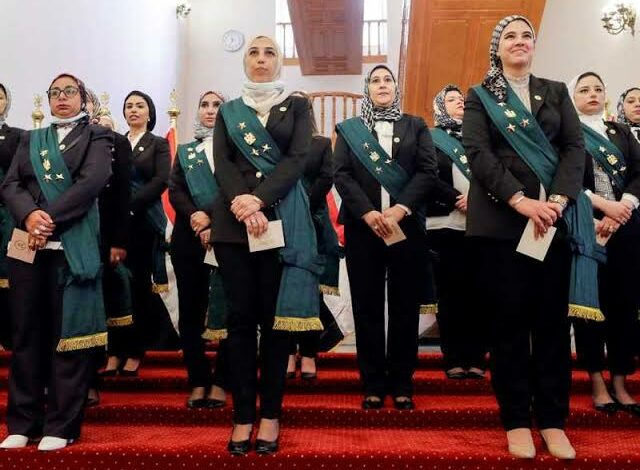 In an unprecedented judicial event, 98 female judges took the legal oath on Thursday in preparation for assuming judicial roles in the Council.
This is the first time in history a female judge will sit on the podium of the State Council courts since its inception 75 years ago, upon a decree from President Abdel Fattah al-Sisi, two weeks ago.
The female judges are transferred from the State Lawsuits and the Administrative Prosecution, the bodies where female judges worked before their appointment to the State Council.
The female judges headed at 8 am to the State Council headquarters before the oath ceremony began inside the council's Great Hall.
They were received by the President of the Council and members of the Special Council – the highest administrative authority in the State Council.
The State Council said that a date has been set for the swearing-in of the new women judges after they completed all appointment papers and documents and released them from the judicial body in which they were working.
The State Council said in a statement that the President of the Republic instructed concerned ministries and agencies to fully support the State Council to create the appropriate environment for the work of female judges.
The President of the State Council called on the new female judges to dedicate themselves to the performance of their lofty duty, to constantly familiarize themselves with the latest sciences of administrative justice.
This is in order to adhere to the texts of legislation and its understanding, and judicial precedents, and to be familiar with the latest methods of judicial administration and the experiences of countries that preceded Egypt in this field.
To also be familiar with French and other European countries legal practices, to complement the comprehensive renaissance with their fellow male colleagues.
All the appointed judges hold a master's degree with a general grade of "excellent" and "very good". Some of them hold a doctorate degree, and most of them excel foreign languages, according to the President of the State Council.
The President of the State Council stressed that female judges will be distributed to the various departments of the State Commissioners Authority, and their circumstances will be taken into account so that they will work in the nearest branch of their place of residence.