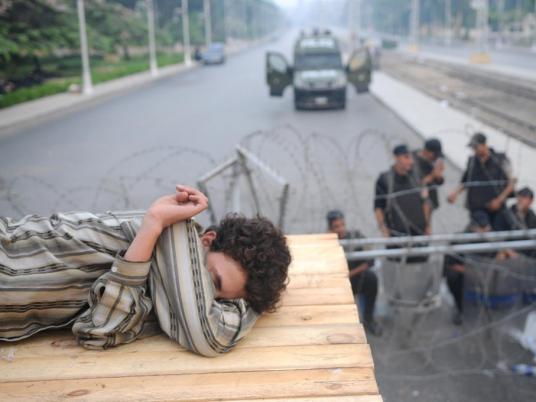 Former MP Mohamed Abou Hamed , one of the organizers of the 24 August protests, said that protesters will continue their sit-in in front of the presidential palace "until the revolution achieves its goals."
In a statement addressed to protesters in front of the palace on Saturday, Abou Hamed said that he had met with the Cairo security chief and explained to him the protest's peaceful nature, after rumors started circulating that security would forcibly break up the demonstration.
His comments came as a citizen filed a report with the attorney general accusing Abou Hamed of incitement and advocating the overthrow of the government. The report was referred to the Supreme State Security Prosecution for investigation.
The citizen had reported to the attorney general that he was watching a religious satellite channel when it received a telephone call from political and human rights activist Mohamed Othman, who said he had confirmed that Abou Hamed had received funding from both internal and external sources to cause sectarian strife and overthrow the regime.
According to Othman, the foreign funds come from Lebanese Forces leader Samir Geagea, who Abou Hamed met while visiting Lebanon. He further alleged that the internal funding comes from an Egyptian businessman aiming to agitate public opinion against President Mohamed Morsy.
Othman added that Abou Hamed told an international television network that a US official told him to gather at least 100,000 protestors for a sit-in in front of the presidential palace and other vital places — along with media personality Tawfiq Okasha — for three days.
On Saturday morning, dozens of anti-Brotherhood protesters marched on Roxy Square, blocking traffic on Salah Salem Road and chanting slogans against the Brotherhood.
Protesters at the presidential palace demanded that the Brotherhood stop interfering in the country's affairs and called for an investigation into the group's sources of funding.
The Friday rally had been organized by Abou Hamed, Okasha and former MP Mostafa Bakry.
Several political groups boycotted the protest, saying its goals were not clear. Only dozens showed up for the Friday demonstrations.
The Brotherhood and its Freedom and Justice Party condemned the protest, saying President Morsy was elected in a clean contest characterized by integrity.
Edited translation from Al-Masry Al-Youm