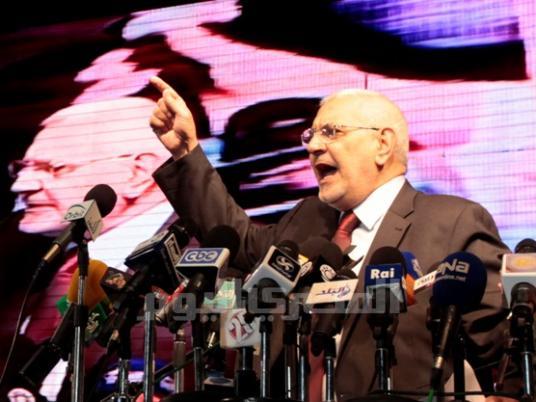 Abdel Moneim Abouel Fotouh continued his presidential campaign Tuesday with three rallies in the largely rural governorate of Daqahlia. Abouel Fotouh gave speeches in the villages of Belqas, Senblawin and Mit Ghamr.
Mohamed al-Bakry, the executive secretary of Abouel Fotouh's Daqahlia campaign, told Egypt Independent that his candidate's speeches would be different from those given in big cities because of the different needs of village residents.
Bakry said that "people still have the wrong idea," in that they believe candidates "should simply do favors for the people that elect them," suggesting this was the idea of many Muslim Brotherhood voters. A presidential candidate is different, Bakry noted, saying a president should be like a 'boss.'"
Commenting on Article 28, a controversial provision of the Constitutional Declaration which states that the decisions of the Presidential Election Commission cannot be disputed, Bakry noted that the only way to protect against election fraud is to ensure that everyone votes, and that the media, campaign representatives, and monitors are all present.
Omar Mabrouk, a resident from Belqas, hasn't decided who is he going to vote for yet, but says Abouel Fotouh, a former Brotherhood member who is viewed as a moderate Islamist, and Hamdeen Sabbahi, a Nasserist candidate, are his favorites. Mabrouk is still researching different candidates' programs, but says "the main concern is justice."
Dr. Yehia el-Gohary, vice president of Belqas Hospital, said he supports Abouel Fotouh, as "the injured Egypt needs a doctor to look after it." Abouel Fotouh is also a medical doctor and the former head of the Arab Doctors Union.
Many residents of Belqas are believed to support "feloul" candidates, or remnants of the former regime, though others say this is only true of the more wealthy and powerful members of the village. Amr Moussa, a former foreign minister under President Hosni Mubarak and Ahmed Shafiq, Mubarak's last prime minister, are running in the election.
Delivering his speech before a crowd of over 1,000 in Belqas, Abouel Fotouh argued that Egypt finally has a real chance to take the first steps toward democracy and urged voters to choose non-"feloul" candidates, who he said are currently running Egypt, and who are trying to ruin this opportunity to achieve democracy.
The next president "must know that Egypt will never be ruled by pharaohs," Abouel Fotouh said.
The candidate also used his speech to deny rumors that parties like the Salafi Nour Party and other Salafi groups have asked for seats in the government in exchange for supporting his campaign, saying that these groups support him only because of his ideas. The Nour Party endorsed Abouel Fotouh officially late last month in a move that many observers saw as a major boost to the candidate's prospects.
In an attempt to connect with the village's voters, the candidate continually stressed his Islamic beliefs and poor background.
While taking a question from a farmer about debts owed to the Bank for Development and Agricultural Credit, the candidate made a promise to relieve the farmers of their debts.
Abouel Fotouh delivered a similar speech to a crowd of over 1,000 in Senblawin and capped off the day with an even larger showing of thousands in Mit Ghamr in which his speech was a little different as it was more focused on economic issues. Abouel Fotouh also accused the military council, the government and the Presidential Elections Commission of intending to postpone the elections, which will lead to the collapse of Egypt's economy.