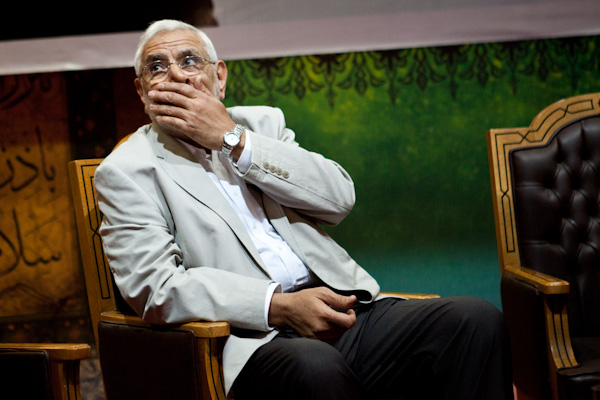 Former presidential hopeful and Strong Egypt Party founder Abdel Moneim Abouel Fotouh has accused opposition forces of allying with the vestiges of the Mubarak regime, while also criticizing the role of the Muslim Brotherhood in government matters and certain points in the draft constitution.
In a statement made Thursday evening on the Qatar-based Al-Jazeera channel, Abouel Fotouh called on President Mohamed Morsy to clarify to what extent the Muslim Brotherhood was involved in presidential affairs.
In the midst of a growing divide between Islamists and their opponents over the draft constitution, Abouel Fotouh hasn't declared a firm position. He has criticized the ruling regime, but also distanced himself from oppositional secular forces.
"There is a taboo marriage between some opposition parties and the remnants [of Mubarak regime], and they should repent and protest peacefully like we do. Opposition differs from walking on the road to destruction," Abouel Fotouh said.
He condemned all parties involved in the presidential palace clashes, decrying "those who lost rationality and sent citizens under the guise of protecting the presidential palace." The state security apparatus is supposed to be responsible for safeguarding the president and his palace, he added.
"The guidance bureau (the Muslim Brotherhood's supreme body) should be asked if it is directing the president, and it must cease if this is true. As for the president, we have to oppose him peacefully, and cooperate with him if he does right," Abouel Fotouh continued.
"It is a shame on the president and an insult to Egyptians if he becomes a plaything in any person's hands. Both parties, the president and the [Brotherhood] group, should prove themselves innocent of that."
Abouel Fotouh said he rejects calls to boycott the constitutional referendum, and that the Strong Egypt Party would participate to show their confidence in the judiciary. Abouel Fotouh urged judges to supervise the referendum regardless of their opinion of the draft constitution.
The Strong Egypt Party had submitted objections on the constitution draft and provided written proposals to head of the Constituent Assembly Hossam al-Gheriany after the first draft was issued on 14 October, Abouel Fotouh noted.
"We did not wait for the final draft to come out as some others have done, but we practiced our role and made written proposals. That is what everybody should have done," he claimed.
The Strong Egypt Party's objections to the draft revolved around issues of social justice, presidential powers and the privileges of the military institution. Abouel Fotouh did not mention the controversial question of freedoms, which has been a major issue for other opposition parties.
"It cannot be that the philosophy of the constitution of a country like Egypt, where 70 percent of its citizens are poor and 40 percent are below poverty line, to neglect social justice and providing care for the poor … (nor can we) constitutionalize military dominance, which has become a fact since 1952," he said.
Edited translation from Al-Masry Al-Youm