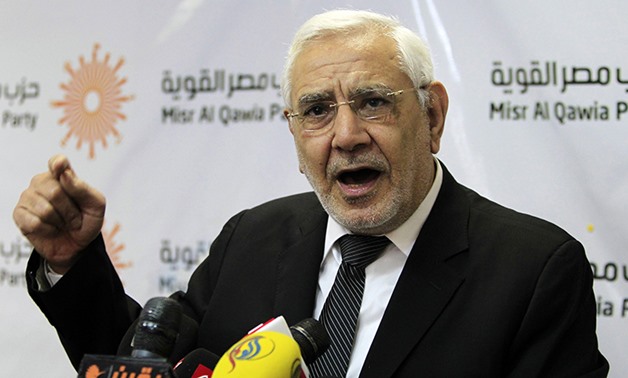 The family of former Muslim Brotherhood (MB) leader and Chairman of the Strong Egypt Party, Abdel Moneim Aboul Fotouh, denounced a statement issued by the interior ministry on Friday regarding the arrest of six MB members on a farm belonging to Aboul Fotouh in Wadi Al-Natroun.
Aboul Fotouh's family denied that he possessed any farm in Wadi Al-Natroun or other areas. The family explained that his wife owned a piece of agricultural land in the area of Emteded al-Bustan, in Beheira governorate.
Aboul Fotouh's wife has rented the land since 2013, and since then its responsibility has been transferred completely to the tenant, said Aboul Fotouh's family, describing the interior ministry's accusations as baseless.
Aboul Fotouh's family denied and denounced all the charges brought against him by the interior ministry, saying the family had nothing to do with the land since it's been leased.
"Since the leasing of the land, the owner has nothing to do with what has been happening in it," the family's statement read.
The statement added Aboul Fotouh's family has documents that prove their claims and will submit them to investigators if requested.
The interior ministry announced the arrest of a group of MB members in a private farm which allegedly belonged to Aboul Fotouh in Wadi Al-Natroun, saying they had been hiding to carry out a hostile plan.
The ministry said in a statement that the suspects, who were wanted in several terrorism-related cases, were found to be in possession of three rifles. The statement added that security forces are still searching for two others who facilitated refuge to the arrested in the farm upon Aboul Fotouh's orders.
On Tuesday, a Cairo criminal court placed Aboul Fotouh on the terrorism list, accusing him of connections to the MB, which was designated a terrorist group in 2013.
Last week, Egyptian security forces arrested Aboul Fotouh for alleged ties with the MB. Aboul Fotouh is said to have communicated with MB leaders abroad and incited against the Egyptian state, calling for suspending the constitution and boycotting the 2018 presidential election.
Aboul Fotouh was arrested from his home in New Cairo after the country's state prosecution ordered his detention. According to the Strong Egypt Party, policemen dressed in civilian clothing approached his house with an arrest warrant.