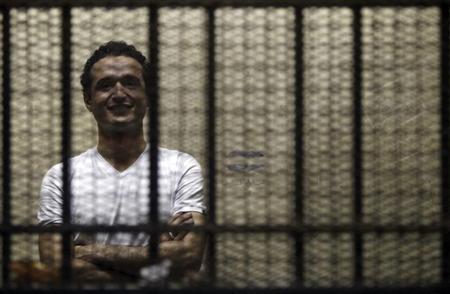 The Court of Cassation accepted on Thursday the challenge filed by activist Ahmed Douma against his three-year prison sentence on charges of insulting an Egyptian judge during a court session. The court ordered Douma's retrial.
The Cairo Criminal Court, headed by Judge Nagy Shehata, presided over Douma's trial along with 268 other defendants, over violent charges in connection with clashes outside the Egyptian Cabinet in December 2013.
During a trial session, Douma asked Shehata whether he had a Facebook account, which the latter denied.
Douma responded that a Facebook account attributed to Shehata published political hostile statements, which reflected Shehata's bias and violated the law which bans judges from expressing political views.
Douma added he does not trust the integrity of his trial or the judge.
The court had sentenced Douma to three years in prison and a LE10,000 fine over charges of insulting the judiciary.
Edited translation from Al-Masry Al-Youm