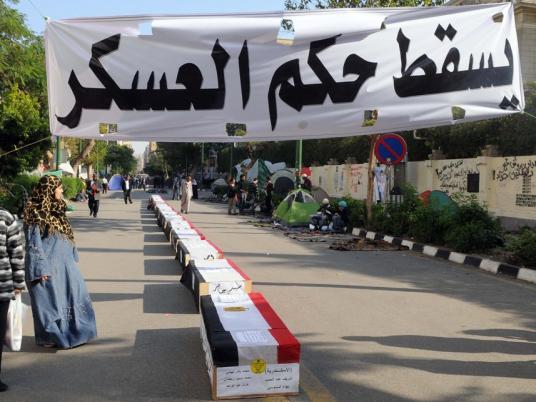 Activists on Wednesday called on all Egyptians to declare a day of mourning on 20 January, calling it "Friday of the Martyr's Dreams," after the victims of the 25 January revolution that began last year.
The Free Front for Peaceful Change and Youth for Freedom and Justice Movement said in a press statement that the commemoration will begin after Friday prayers, with marches of mourners wearing black to be held in all governorates around Egypt. All of the Cairo marches will head toward Tahrir square, they added.
The organizers of the events also said they will coordinate with all revolutionary and youth movements to form a consensus on how to publicize the event and mobilize people to attend. During the Friday events, all attendees will be invited to the demonstrations being planned for 25 January, to celebrate the anniversary of the uprising that overthrew former President Hosni Mubarak, the groups added.
The 25 January Revolution Youth Coalition will hold a symposium that day in the Manshiet Nasr district to help explain to the public the revolutionaries' reasons behind returning to public squares and how the revolutionaries are being subjected to a smear campaign. The coalition is also organizing a silent vigil for victims of the 2008 rockslide disaster in Manshiet Nasr as part of the anniversary preparations.
On Wednesday, the ruling Supreme Council of the Armed Forces (SCAF) declares 25 January a national holiday.
Revolutionary movements responded that the declaration would not deter calls for protests against military rule. They also said they would like the SCAF to announce a holiday in honor of the martyrs who have fallen victim to the brutality and repression of the Mubarak regime.
Translated from Al-Masry Al-Youm